To see the joy on a child's face after unpacking Christmas gifts – it's priceless. This moment is definitely worth the effort. No matter if it's the first Christmas with the baby or the third one, I'm sure you want to it to be magical. We've done the groundwork for you and figured out which are the best Christmas gifts under £5 for your little one this year. Any of these baby Christmas gifts are sure to top off this special milestone and make it truly memorable.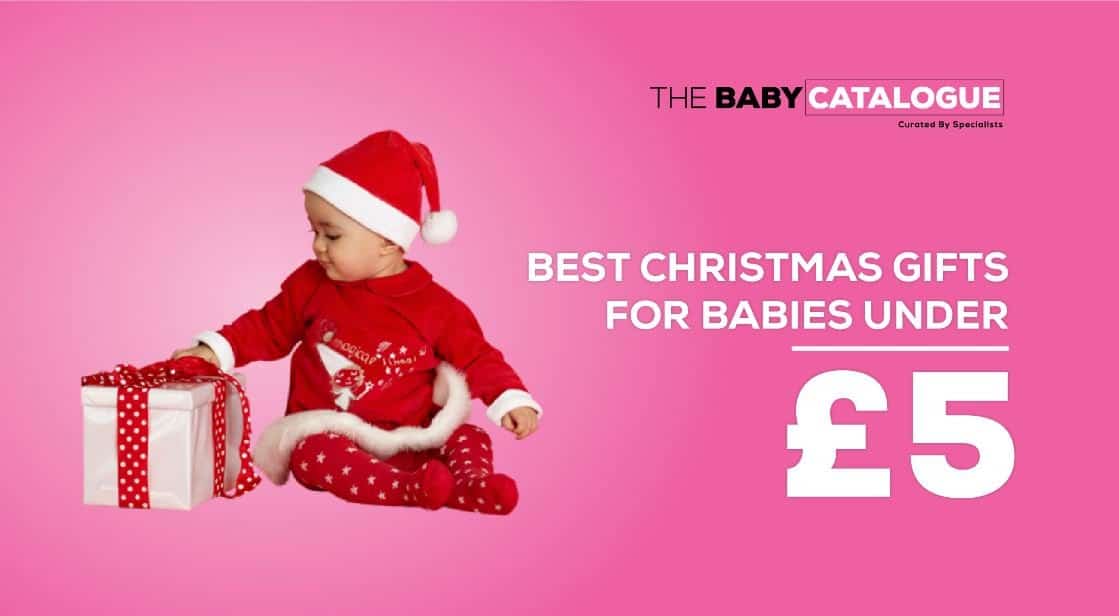 Also Read: Best baby monitors to keep your baby safe and sound
Here is the list of Christmas gifts for babies available online in just £5
[table id=5/]
Best Christmas Gifts For Babies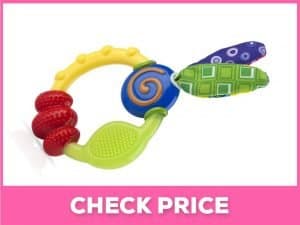 A great product from Nuby featuring in raised surfaces assisting in the eruption of the teeth by giving a gentle massage on the infant's gums. The texture of each surface is carefully designed according to the front, middle and back teeth. Moreover, this amazing product is made out of silicone that even cures the sore gums by softly massaging the gums. The holding capacity of this product is another striking feature, which allows the baby to hold it with maximum effectiveness. To a surprise, this toy crinkles with every touch of your kid. With all these superb features, it is no doubt that within a few days it will become your child's favourite toy. The green side is made with a soft and squishy material so that the child can comfortably hold the toy, whereas the yellow and red parts are made out of a bit hard material. The leafy part I made of cloth and crinkles whenever touched. Overall, it is a wonderful toy that keeps the babies distracted from wrongdoings or even crying. It is a way to keep your babies happy and cheerful every time.
Check Latest Price ➤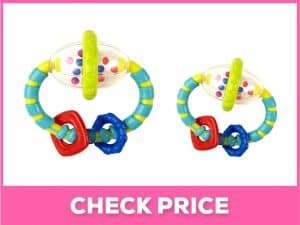 Kids II rattle toy is ultra soft and durable for your baby's happy play time. This colourful toy is machine washable and visually stimulates the babies to learn to track objects which eventually increases their vision. The spinning rattle makes a sound that amuses the kids and keeps them engaged for unlimited playtime at any hour of the day. It's your baby's perfect childhood companion that instantly lights up the baby's mood for lots of fun and frolic. The toy is very lightweight and has an oval structure for the perfect grip. It's bright and vibrant to keep your baby entertained the whole day. Another important feature of this product is that it's non-toxic and plush which keeps your baby safe from injuries and isn't a choking hazard. There are also 3 textured links attached to it with a handle. This helps with hand-eye coordination and aids your baby in understanding movements. For 3 months old babies, the toy helps with teething relief as well. Overall, the rattle toy offers an amazing boost to the imagination and helps with concentration and fine motor skills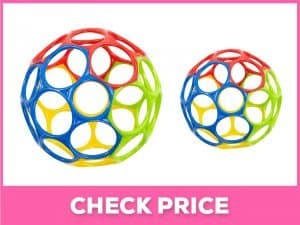 If you wish to keep your baby's little hands happy, then gift him this oball activity toy that keeps him entertained throughout the day. It is a spherical toy with 32 finger holes in it that make it easier for the baby to grab it. The smooth and flexible design gives your baby a fun-filled time, continuous amusement and a vigorous sensory workout.
Your baby might seem to be cosy and snug in the swing, but it's important to gift them something that encourages movement throughout the day. The non-toxic activity toy helps your baby in mastering the mini milestones of early development. The big holes and vibrant colours make the toy visually appealing. The whole structure of the toy helps the baby to move around easily and helps baby improve dexterity.
Check Latest Price ➤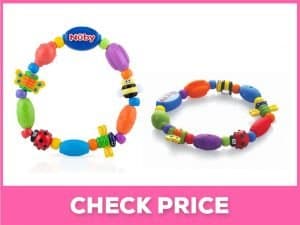 Teething years of most babies are quite difficult as they struggle with intense pain and gum irritation. This nuby bug a loop teether is designed specially to soothe and stimulate the gums by massaging them. The toy provides a range of textured surfaces that help soothe the gums as teeth erupt. Anything that your baby puts in his mouth will require adult supervision; however, this toy is BPA free, very easy for the baby to hold and doesn't need sterilisation.
It gently massages your baby's gums and is a great choice to ensure happy baby teething. The product has also won a silver award at Practical parenting awards in 2011 under the category of the best baby toy. Infants are more attracted to colourful toys with multiple patterns and designs on them, and this loop teether keeps your little one entertained with its super cute design. It is hence an amazing choice of teether that keeps your baby calm and you stress-free.
Check Latest Price ➤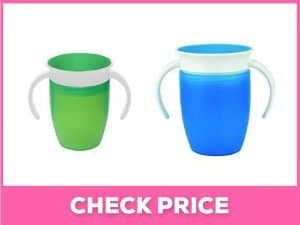 Parents often struggle to find the right sippy cup once the kid transitions from a bottle to cup. A reliable spill-proof cup is essential for drinking throughout the day. Munchkin miracle 360-degree trainer cup is actually a miracle. It is a 207 ml toddler cup that eliminates the possibility of any kind of spillage due to its 360 degrees drinking edge. The most prominent feature of this cup is that it can automatically seal when the child stops drinking.
This sippy cup is your baby's best friend. The sipper enhances the dental health of your baby and eliminates the chances of your baby hurting the gums while having a shot of their favourite drink. It also helps with proper jaw development unlike the spout variants.
Check Latest Price ➤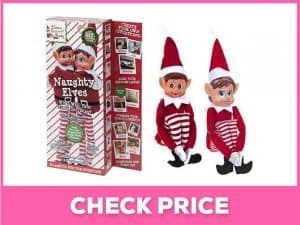 Toys are a beautiful part of a child's growing years and help with a whole lot of learning as well as free play. Make this festive season even more fun for your kids by gifting them this vinyl faced naughty Elf dolls. You can place these naughty Christmas elves anywhere in the house and enhance your Christmas decoration too.
You can also plan out a game for your kids where you can ask them to find the elves that you have hidden around the house. These elves have a soft plush body with Velcro hands and a vinyl head. The red and white outfit keeps them glittering with lots of cheers and spreads a positive ambience in the house. Let your kid's eyes sparkle with joy as you gift them these adorable elves.
Check Latest Price ➤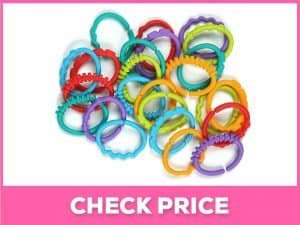 Babies love colours. These loops of all sizes and colours are ideal for open-ended play and lots of positive visual stimulation. Kids II bright starts links are a set of multiple rings for babies and help them have a happy playtime and you to have some free time. It includes a total of 24 on the go links, that are perfect to be carried along even when you travel. The car rides, the shower sessions air travels, you name the situation and the play rings come to your rescue. You can easily clean these rings by wiping them with a damp cloth and mild soap. Undoubtedly, this is a super affordable toy with versatile utility.
Check Latest Price ➤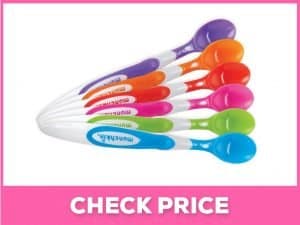 If you have the right utensils to feed your baby, then mealtimes become an absolute pleasure. These brightly coloured and vibrant infant spoons are soft on your baby's gums and do not hurt them. Munchkin has been a saviour for all parenting dilemma for the past 25 years, transforming all the mundane products into attractive solutions.
It has long handles that can easily reach the end of the food jars. The best is, they do not heat up like steel spoons. The smooth material used in the manufacturing of these spoons helps the baby in having a nice grip while holding it. The spoons are dishwasher safe, and the parents will not have to worry about the germs and dust. These are BPA free and an excellent choice for growing babies.
Check Latest Price ➤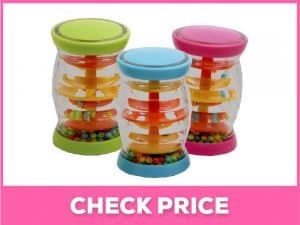 These bright coloured shakers are easy to grip by tiny tots. Their colourful beads make a pleasant sound on shaking, which attracts the children and gives them immense pleasure. This musical instrument is colourful, safe, durable and features with a comfortable grip designed for small hands. The beads are cascaded through a transparent tube with prism-effect.
Halilit's welcomes the children and even adults with their awesome musical toys to delight the ears with soothing music.
Check Latest Price ➤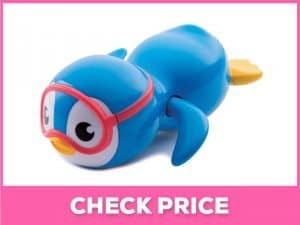 Bath time is the most exciting and fun-filled time for the children and Munchkin's product range has everything you need to engage or educate your little one. Let us go for an exciting bath with this wonderful swimming scuba bath toy. This attractive diver has a pull cord that makes it's fin flaps and it is absolutely operational by children. When the cord is pulled this beautiful penguin shows off its swimming skills and let the children witness the underwater fun.
This educational toy is perfect for teaching your kids about the hand and eye coordination and even about Newton's law; every action has an equal and an opposite reaction. All you need is to just pull and watch this penguin go winding his arms in the water. Now make the bath time of your kiddos a splash hit every time.
Check Latest Price ➤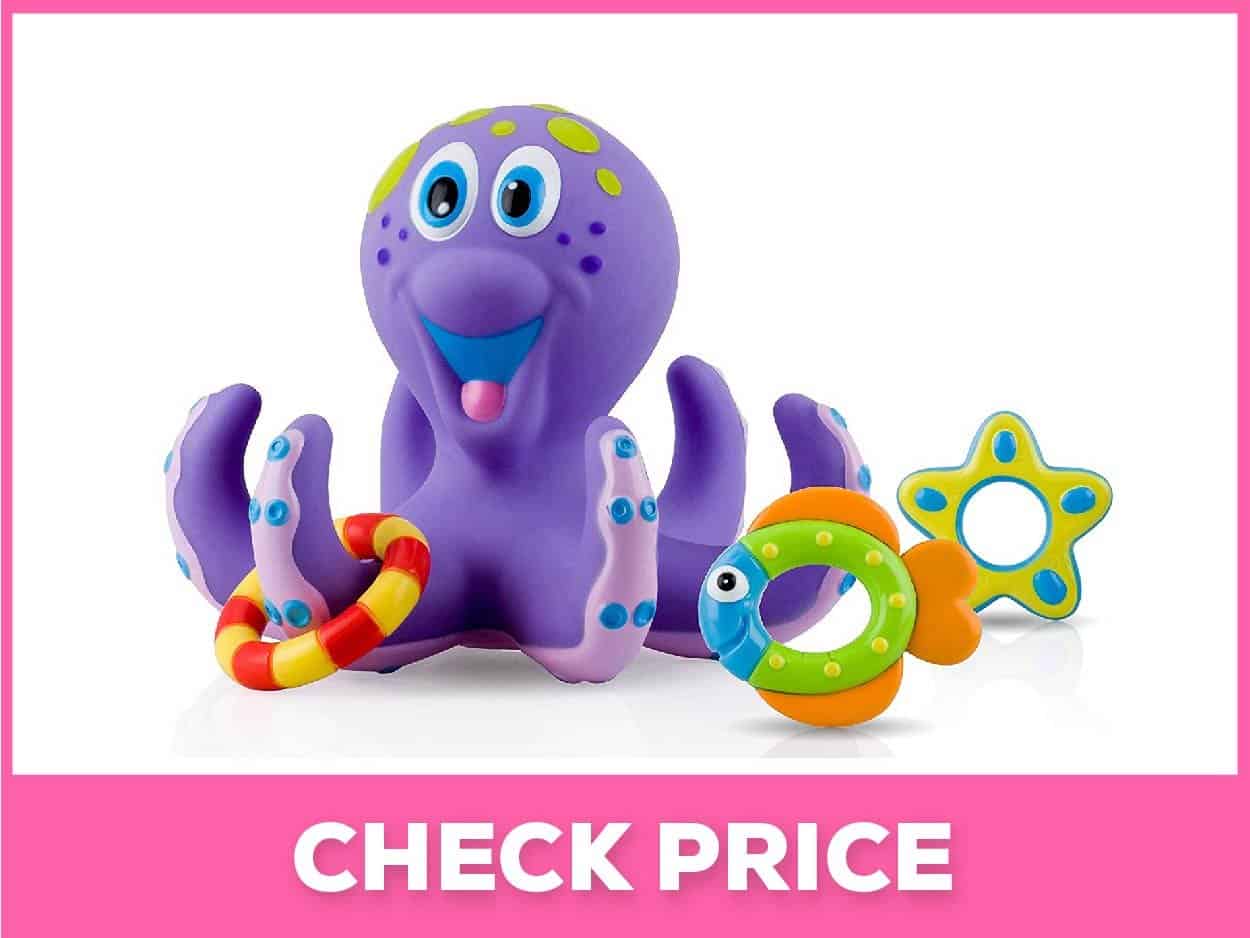 Taking a bath for children is really a stressing job. Bath toys are a great way to experience a memorable bathing time for children and parents as well. Especially, the toys manufactured by Nuby have the ability to double up when putting into a water tub. This amazing and eye-catching bath toy adheres to all the governmental safety and cleanliness regulations. This is an ideal way to teach your tiny tots the eye and hand coordination as it requires to put the rings in the arms of the octopus. Although this colourful toy is recommended for 18 months and up but children below the recommended age also enjoys playing with this toy. This six-legged octopus will soon become your child's favourite bath toy. The purple floating octopus comes with three rings in attractive colour and shape variants that stimulate the learning abilities of children. If you are trying to teach the kids colours, shapes, counting and patterns, this is the best way to do so. Apart from this, you can also show the kids how an octopus floats or sinks in the water. This product is BPA free and hence gives you another good reason to choose for your kids.
Check Latest Price ➤
Final Words:
The baby product industry strives on parents' desire for giving the best to their little delight. The finest quality products ensure that you give that loving touch to your baby. While it is a good idea to give them the best, it isn't really wise to break the bank for seemingly beautiful but useless products. Giving your baby the right amenities is of utmost importance as each product aids in your baby's growth and development. It can be overwhelming to find the right product for your baby which best suits the needs.