Best Video Baby Monitors 2020 UK: Having a baby automatically makes you end up with extra eyes and ears that are always on the hunt for trouble. You want to ensure safety for your baby and also run the chores around the house without breaking your head fretting over every little sound. A video baby monitor thus comes handy to keep an eye on your baby and ensure that your little delight is safe.
The best video baby monitor depends on your personal preference, number of babies, size of the room etc. It is an ideal gift for baby showers or arrival announcement functions. Here is how you can choose the best baby monitor for twins so you can run around doing your chores in peace and the baby stays safe too. we answer all the questions you may have and also analyze the best twin baby monitors available in the market to make the choice easier for you. Here is the list of best video baby monitors of 2020 in the UK
Top 3 Video Baby Monitors
Video Baby Monitors Reviews
1. Tenboo

Video Baby Monitor

with Camera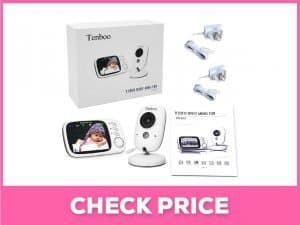 Top Features:
Large monitor: Its 3.2" high definition monitor screen allows the parents to monitor their child with a top-notch picture quality
Long battery life: With a support of 18 hours of battery functioning, it supports in a painless effort to monitor your child.
Two-way communication: A real-time intercom that helps the child to listen to your soothing voice and allows you to listen to your child's voice.
Built-in lullabies: Already loaded lullabies help to put the baby in the world of sweet dreams
Multi-language system: Another striking feature is the support system of more than two languages in this device. You can choose from English Spanish, Portuguese, French, and German, Italian Russian.
Read: Complete Review of Tenboo Baby Monitor and Buying Guide
Bottom Line: Overall, a good monitoring device that helps the parents to take care of their baby even when they are engrossed in some other work. You can overcome the cons by sticking a cardboard or a duct tape over the blue light and not keeping the frequency to high. This way you will be able to enjoy every moment of the baby.
Check Latest Price ➤
2. GHB 2.0" Best Video Baby Monitor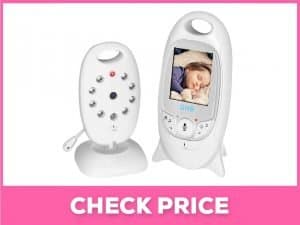 Top Features:
Reliable wireless technology: A 2.4 GHz technology specially designed to render a sense of tranquillity and calmness when you are away from your little ones.
Easy communication: The 2-way communication by GHB is a revolutionary feature. With the help of its built-in mic speaker, you can talk to your agitated child and put him or her at ease.
Monitor the temperature: With temperature monitoring function, you can easily know the room temperature of the baby.
VOX function: VOX or voice operated exchange helps to alert you whenever your baby is crying. This is most useful when you are absorbed in your work. The monitor screen automatically turns on with a sound and turns off when silence surrounds the room again.
Built-in lullabies: If you are bad at singing lullabies then no need to worry. There are numerous built-in lullabies, which can be played to calm down your baby.
Infrared night vision: With this superior technology, you need not go and disturb your little monster at night. It allows you to keep an eye on your baby at nights and even in the daytime.
Bottom Line: Your baby needs a constant monitoring and this might be impossible for you to be in the room for 24 hours. GHB monitor has solved this problem with its extraordinary features.
Check Latest Price ➤
3. Victure Video Baby Monitor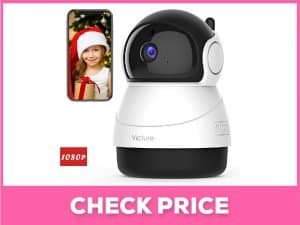 Top Features:
Video Encryption: This IP camera adopts a unique encryption technology to save the videos on a micro SD card, and nobody can copy the videos through SD card reader even when the camera or SD card is stolen. In fact, the security is so great that video files in the SD card can only be accessed by the owner's account.
Wifi Stability: The wifi installation is very easy, quick and stable 2.4 GHz wifi connection for Victure IP follow steps in the manual with IPC360 application. It adapts perfectly to iOS & Android interface. There are several presets positions in the camera; however, you can also add several cameras in various terminals. You can easily pair the IP camera to WLAN or Wifi in no time.
Night Vision and Motion detection: 10 pcs 850 nm IR LEDs technology can extend the viewing distance up to 30 feet even in pitch dark to offer a great 1080p night vision experience. Victure IP camera also has a motion detector installed and can detect the motions and send notifications to your mobile phone in order to prevent the home from the invasion of any kind.
Rapid Position and Panorama: With the camera of 100-degree wide-angle lens (355 horizontal and 100 vertically) rotation range, you get to have a full 360 degrees panoramic view without any blind zone. All you have to do is position correctly and click wherever you want on the panoramic screen.
2 Way Audio: The Victure IP has a built-in camera, 38dB microphone and speaker with an upgraded anti-noise technology, the noiseless background allows you to be in the comfort zone with your family, and even communication can take place hassle-free whenever you want without any disturbance.
Warranty: Its not just provides a world-class facility but also provides 12 months warranty and a professional customer service team. You can get the after-sale services are also done with no disappointments.
Bottom Line: This revolutionary device lets you monitor the slightest of the movement of your baby. This technology makes it an attractive unit to buy.
Check Latest Price ➤
4. Hellobaby 24 Video Baby Monitor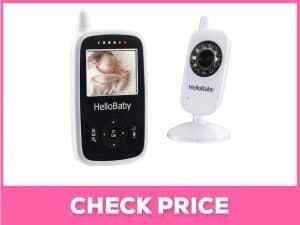 Top Features:
Two way talk: Two walk talk system between you and your baby through this exceptional machinery helps you to take care of your child.
Screen Enlargement: You can zoom up to 2X to view your child clearly
Wireless Transmission: No wires are needed to transmit your sound to the baby. It allows a 2.4G digital encryption that can transmit data over 300m
Soothing Lullabies: It has the capacity to play up to 8 calming lullabies.
4 cameras: you can conveniently attach 4 cameras with this device to monitor your child with ease.
Bottom Line: Although there are quite major cons in this monitoring device its price and advantages make it a still worthy product to go for
Check Latest Price ➤
5. GHB 2.4" Video Baby Monitor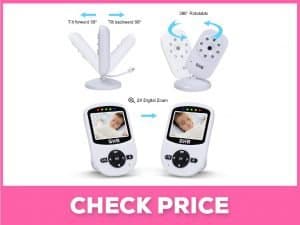 Top Features:
2-way communication: Your lovely baby needs a constant attention and this is possible only with a better baby monitoring tool. GHB has everything you need. Its built-in speaker lets the users talk with the baby from another room. Subsequently, the parents can also listen to their children crying.
Lullabies: If your voice is not enough to soothe the baby then this great device has a solution for this problem too. There are many built-in lullabies to calm down your crying angel.
Temperature controlling: This feature allows you to monitor the temperature of your baby's room.
Night vision: With infrared technology, you can track your baby even at night. The image quality is striking even at night.
Extras: This device has a tilting head, which can be mounted from upwards to downwards. Aso, it can also be paired with 4 cameras to record every pretty moment of your baby.
Bottom Line: With almost no cons, this device is a superior accessory to monitor and record those unforgettable memories of the baby
Check Latest Price ➤
6. FREDI Wireless Baby Monitor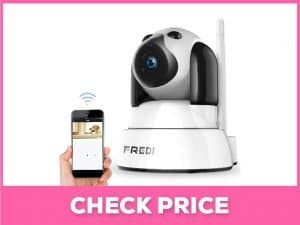 Top Features:
Battery Life: It has the working hours of up to 12 hours when ECO mode is turned on.
2-way Communication: Now listen and speak to your baby even sitting in another room.
Built-in Lullabies: Now calm down your baby with already loaded lullabies in the device
Temperature Monitoring: You can even monitor the temperature of the baby's room with help of this device.
Infrared Night Vision: This is a unique feature, which helps in taking care of the little one even at night.
Bottom Line: With its robust functioning and easy operation, this product has become the choice for many mums.
Check Latest Price ➤
7. Hellobaby 32 Video Baby Monitor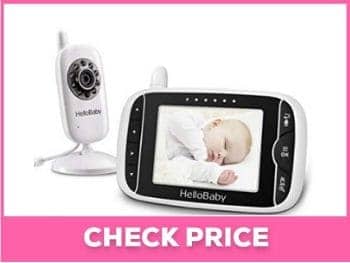 Top Features:
High resolution: The 3.2" high-resolution LCD screen and wireless technology aids in preventing the signal drop out
VOX mode: This feature makes life easier and its intelligent system monitors the baby and alerts the parents when the baby is awake
Baby soothing music: From more than 7 lullabies to soothe the agitating baby is loaded into this device to ease your work.
Night vision: You can turn on the night lamp to see your baby clearly. This avoids your frequent checking in the baby room.
Auto mute: When sound is below 50db for more than 7 seconds in the room, the speaker will be turned off and is activated when the noise has occurred. Some take it is a defect in the device but this is a great feature added in this sounding machinery.
Bottom Line: This is a trusted brand for more than 30 years and moreover invented by a breastfeeding mother. Both healthcare professionals and mothers have trusted every product under the brand of Lansinoh.
Check Latest Price ➤
How To Choose a Video Baby Monitor? The Ultimate Guide!
Market and online shelves are brimming with video baby monitor options and it often leaves the parents confused. Choosing a monitor is based on a lot of personal parameters because not every household is the same and needs vary.
Here are the key features to look for in a baby monitor:
vVdeo baby monitors range from very basic to sophisticated ones and a lot of them come with add-ons such as the ability to control the temperature of the room remotely, remotely turning on soft music to soothe the baby, calming sounds to put the baby to sleep etc. While it is good to have these features, the essential vary according to families.
It is a good idea to consider the following features when choosing a baby monitor:
DECT technology: DECT technology in video baby monitor enables them to use a low-frequency band. This low-frequency band is only for voice communication and not like the 2.4 GHz frequency band. The other home devices like video game controllers, cordless phones, Bluetooth and other wireless devices use the 2.4 GHz band. DECT makes it possible to receive very clear sound from the monitor to handset. An audio monitor that doesn't work on DECT must be able to offer a choice between different frequencies so that one can choose the clearest signal.
Rechargeable batteries: A baby monitor is one of those devices that will be on most of the times. It is the same with their handsets. It is wise to choose a model that can either be plugged into a power source or comes with rechargeable batteries. It is quite a hassle to run for the batteries every time they conk off (it is going to be pretty frequent)
Multiple portable handset receivers: The whole point of buying a baby monitor is that it offers you mobility around the house. The monitor can stay static in the baby room whereas you must be able to take the receiver around the house. Some baby monitors come with multiple receivers that can be used in different rooms or by different caregivers. They also come in handy when you are recharging the battery.
Night vision video technology: Most babies sleep well only in a dark room. A clear view of your room, however, is difficult to achieve in dark. Night vision display in baby monitor cameras makes it possible to view a clear feed. Some models of cameras also come with the capability to control the brightness of the screen.
Sound and video interference blocks: Whether you use a single handset or more, it is very important to get clear sound and image from the baby's room. Any distortion in sound or image defeats the purpose of having a monitor in the first place. Little sounds in the room are pretty irritating and prove to be a distraction when amplified by the monitor. It is very important to opt for a monitor that offers the functionality to filter the white noise.
Sound indicator with light: A sound indicator in a baby monitor that also lights up, makes it possible to detect the noise levels of the baby even when the volume of the handset is set to mute or at a low level.
Sound activation sensor: This is an awesome feature to get you some much-deserved sleep. Turning on the speaker only when a cry is made makes it possible to sleep through the night without being disturbed by ambient noise.
What to ask before investing in a baby monitor?
Baby monitors start at prices as low as £30 for the audio version but remember, it is not always a good idea to opt for the cheapest available. You must assess your need and opt for a monitor that takes your budget into account and also offers features that keep you relaxed. Similarly, the upper limit is also quite steep and again, costliest doesn't mean the best. Your personalized needs are the key parameter to focus on. Wireless network monitors, encrypted digital monitors etc. are some of the top end baby monitors available but they are useful only when you need to spend quite some hours away from the baby each day or if cross channel interference is high in your area.
The number of receivers required: The first decision you need to make is regarding the number of receivers that you need as it will significantly affect the cost too. It depends on how your home is designed, the number of caregivers, a distance of nursery from your room etc. Decide if you need only one receiver in your bedroom or would need additional ones in the kitchen or living room. Before comparing the available options, it is wise to assess how you will use the monitor. Large homes could do with multiple handsets or portable receivers that enable you to move around the house without compromising on the safety of your baby.
Strength of signal required: You must factor in how strong a signal you will need. The manufacturer instructions will mention the area covered but that can be misleading in case of interference by multiple walls or any other interferences. It is good to consider these before deciding on the range.
Do you need silence to work?:  If you work from home and think there is a lot to do workwise while the baby naps, you could make use of the light up the audio indicator. Keep the monitor muted and take your calls in peace and the lights will let you know of the crying.
How long do you need to use the monitor: Baby sleep patterns become more stable as they grow up. As that happens, you could reduce the volume of the monitor and hence hear only when the baby is upset. Till the baby moves to a toddler bed is the maximum timeline that most people stick to.
Does your place experience interfering frequencies: Monitors are impacted by 2 types of interference issues. These include the distance between the monitor in the nursery to handsets and radio frequency for sound travel. Another monitor or radio in your neighbourhood may also interfere and disrupt monitor sounds. A monitor that works on DECT technology is useful in such situations and helps to keep the transmission clear and secure.
An easy and convenient return policy is always a great value add and you must always insist on a proof of return or exchange policy. You must thoroughly check the monitor after bringing it home and exchange if it doesn't fulfil certain criteria.
Video Baby Monitor – Final Words:
Arranging the nursery for your baby can sometimes be overwhelming as it comes with a host of emotions as well as accompanying chores. The major concerns while setting up space for your baby are safety and your availability. A baby monitor will save you the stress about your baby's security in their nursery.
It is all the more confusing when you have twins as the responsibility and concern is double. The plethora of brands available in the market often leaves one confused about the right product to be chosen. I have compiled this article to help you choose the best baby monitor for your baby or babies if you have multiples. My research is based on my experience with multiple families that I have worked with and also personal experiences of other parents
The decision of the ideal child monitor camera is a critical buying decision that you need to thoroughly analyze and thin over. I have offered a careful analysis above, you must also do some research at your end and choose a product based on your personalized need. Look beyond the cost of the baby monitor camera and consider specifics such as the setup of the nursery distance from your room etc. A well-thought decision at your end will go a great way in making sure that the baby is safe and you complete your chores peacefully
Last update on 2023-11-29 / Affiliate links / Images from Amazon Product Advertising API