Best Group 2/3 Car Seats: The importance of a car seat cannot be denied. There is a reason why car seats are a mandate in many countries. The functionality of car seats in saving the lives of children is phenomenal. The ever-increasing number of cars on the roads and increased power in the engine has lately contributed to several road mishaps. It is also a fact that lives are getting more dynamic each day and that requires babies and children to be on the road.
This requires better security measures to keep the children safe. While market shelves overflow with numerous options, it is often difficult to decide which one to buy. The confusion comes in especially when the baby is 2-3 years of age and has outgrown the newborn car seat. This article focuses on helping you find the best Group 2/3 car seat.
Top 3  – Best Group 2/3 Car Seats
Why is the best group 2/3 car seat required?
We often wonder that a 2-3-year-old has the good body control and can seat, then why not a normal seat belt and why a car seat. This is because a well-fitted car seat takes the risk of an injury down by nearly 67% in case of an accident. Also, a 2-3-year-old doesn't have adequate strength to sustain sudden jerks. Their body isn't as strong as the adult body and thus, adult seat belts are not ideal.
Here are some reasons why the best group 2/3 car seat is an absolute must for your toddler:
A high-speed crash can be life-threatening because the body and brain of toddlers are still developing
Kids car seats prevent their light and delicate bodies from flying across and banging when there are bumps or brakes are suddenly applied
A child is not firm on a seat. Nor does it concentrate on holding well. This puts them at risk of falling off in case of jerks
A child car seat is a perfect way to keep the little body well secured and prevent injury by banging against car doors or windshields. They also offer cushioning in case of bumps and hence prevent fatigue. We as parents always strive to do the best for our children and thus a car seat is quintessential.
Group 2/3 Car Seat Reviews

1. Bebe Style Convertible Group 1 2 3 Car Seat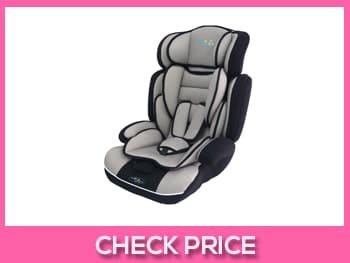 Product Features:
This is one of those car seats that are not only the best group 2/3 car seat but covers a wide spectrum of age groups
It can be your toddler's companion from 9months to 12 years and supports kids of weight 9-36 kg
It comes with very thick padding to offer the perfect cushioning to the child
It is a kids car seat that can also convert to a booster seat
The height of the headrest and shoulder straps can be altered to meet the needs of the growing child
It is equipped with energy-absorbing foam that protects the child perfectly in case of bumps and jerks
It offers special protection on the sides to reduce the impact
It has been tested based on European safety standards and is certified for safety
It includes a 5-point safety harness that can be adjusted with a single pull
Thick padding can be removed to accommodate bigger babies
Superior, breathable fabric incorporates airflow technology to ensure the child is warm in winter and cool in summer
It comes with a washable cover
3 point seat belt installation adds to the safety of this child car
It comes with armrests that are quite useful for older babies
The Verdict: This is an amazing buy at a very low price tag and can easily give the expensive ones good competition. It is also a good idea to use it as a spare seat of you travel a lot. The extra padding is very comfortable. 
Check Latest Price ➤
2. CYBEX Silver Solution M-Fix SL Child's Car Seat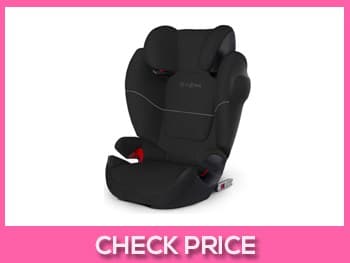 Product Features:
This seat is suitable for car models with or without ISOFIX
It promises long term use as it can be used from 2/3 years – 12 years of age
It is built with side impact protection and comes with an energy-absorbing shell to ensure utmost safety for the child
It is easy to install with the seatbelt as well as ISOFIX
It comes with a machine-washable removable cover
It also comes with ISOFIX installation aids
Made with 100% polyester, it is easy to clean and maintain
The Verdict: It is a very sturdy car seat that is even sturdier when installed using ISOFIX. It comes with clear instructions and can be installed quite easily. In all, an awesome buy and one among the best group 2/3 car seats.  
Check Latest Price ➤
3. Britax Römer KIDFIX SL Group 2-3 (15-36kg) Car Seat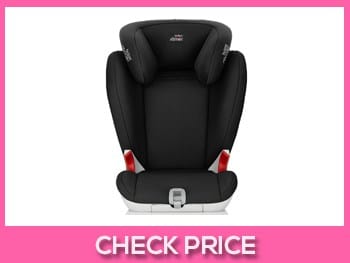 Product Features:
This kids car seat comes with a soft latch ISOFIT system that facilitates direct and easy connection to the car's ISOFIX system
With deep and softly padded side wings, it offers the perfect protection on the sides
It is completely adjustable including the height of the headrest and the upper belt
It has a unique V-shaped backrest that appropriately suits the shape of a child of growing age
It supports children of the 2-3 age group perfectly
Weight consideration: 15-36 kg
The Verdict: It is a very dependable car seat coming from a top car seat brand. The flexible straps of the ISOFIX are a lot easier to install as compared to the hard rods in other models.  
Check Latest Price ➤
4. Britax Römer car seat 9-36 kg, EVOLVA 123 group 1/2/3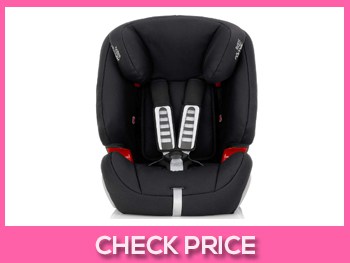 Product Features:
A very versatile kids car seat that supports children from 9 months to 12 years
Weight considerations: 9kg-36kg
It comes with a 5-point safety harness
It is covered with high-quality breathable fabric
It is a non SICT seat
The car seat has been designed to grow with the child
It comes with chest pads and highback booster protection
The Verdict: It is a good seat if you plan to use it in one car and not change too much as installation is a bit tricky. Nevertheless, it is quite comfortable and secure  
Check Latest Price ➤
5. CYBEX Silver Solution X-Fix Child's Car Seat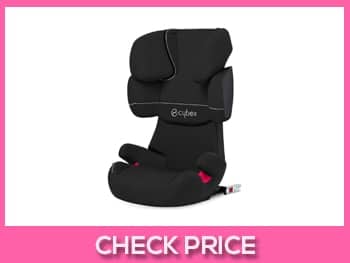 Product Features:
High-quality seat that can be used for long-term
It is perfect for group 2-3 and goes up to 12 years of age
It is very sturdily built, thus very secure
It can be installed in cars with or without ISOFIX
It comes with side impact protection
The reclining headrest can be adjusted 3 way and ensures maximum safety
It is completely adjustable with both backrest and seat cushion
It can be easily installed in all cars either with seat belt or ISOFIX
The fabric cover can be removed and tossed into the machine for quick and easy cleaning
You can also opt for other optional accessories like the summer cover
The package includes ISOFIX installation aids
The Verdict: High-quality seat that comes with a reclining headrest and can be easily installed. A good choice if you are looking for the best group 2-3 car seat  
Check Latest Price ➤
6. Graco Junior Maxi Lightweight Highback Booster Car Seat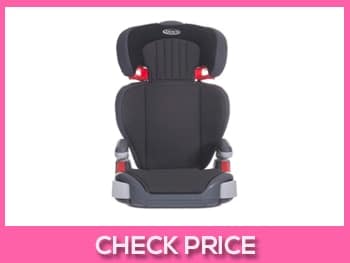 Product Features:
It is a very versatile seat that covers kids from 2-3 to 12 years of age
It supports weight considerations of 15-36 kg
It comes with an adjustable headrest that can be conveniently adjusted with one hand
The height of the armrests can be adjusted for comfort
It offers coverage to the entire back of your growing toddler and ensures a supportive ride
It comes with 2 cup holders that are ideal for beverages on the go
It is a good size at 41cm*41cm*68cm and can fit big and small cars alike
The Verdict: This is a lightweight seat ideal for travels and to be used as a spare seat. However, some users find it flimsy and slightly unsafe due to the absence of ISOFIX.  
Check Latest Price ➤
7. Bebe Style Convertible 1 2 3 Combination Car Seat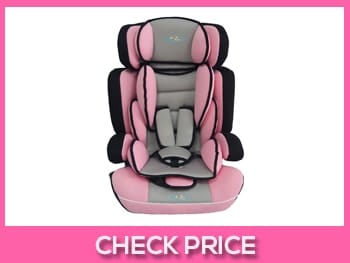 Product Features:
This is the perfect transition from infant car seat to a toddler car seat and will likely not need to be replaced until your child is ready to sit independently in the car
It has a wide weight range from 9-36kg
It supports kids from 9 months to 12 years old
You can convert it to a booster seat when the child is older
It comes with super thick padding for superior comfort
It is equipped with EPP energy-absorbing foam to keep the child comfortable and safe
It offers superior side impact protection
The height-adjustable headrest and adjustable shoulder straps are ideal to last the child
through growth stages
It is tested and adheres to the latest European safety standards ECE R44/04
Younger children can be made comfortable using body support cushions that come with the seat
It is equipped with 5-point safety harness that can be adjusted with a single pull
The removable thick padding ensures that the seat is ideal for children of all suitable age groups
The airflow technology of the fabric keeps the child warm in winter and cool in summer
The Verdict: It is the perfect car seat that fits all cars and is ergonomically designed to keep children comfortable
Check Latest Price ➤
8. Ickle Bubba Solar ISOFIX Car Seat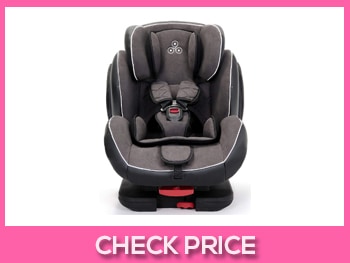 Product Features:
This is a very sturdy model made of superior quality materials
It comes with 3 position recline that ensures comfort for the child throughout the journey. The positions include upright, mid and full recline
The magnetic buckles included hold the safety straps in place and facilitate the child to easily go in and out of the seat
Additionally, it also includes 5-point harness that has shoulder, lap and crotch straps
It includes cushion technology to reduce side impact in case of collision
It includes ISOFIX and Top tether to install the seat easily in the car and also to ensure it is strapped incorrectly
It can also be installed in cars without ISOFIX using seat belt
It covers a wide range of ages from 9 months to 12 years
The fabric has a luxurious feel and prevents the child's body from overheating while in the car
The headrest cushion, buckle pad, and seat cushion are reversible
The Verdict: This car seat offers very good value for money with superior safety features and also comfortable padding
Check Latest Price ➤
What to look for on your hunt for the best group 2/3 car seat?
5-point harness: A 5-point harness is a very important component that ensures the safety of your toddler in a kids' car seat. It is a safety belt that secures the baby by clipping across the chest, over the thighs and between the legs. It helps keep the child secure and restrains in the case of an accident. Although not a must, but a padded tray in front of the belly is also a good idea as it offers added security in case of an accident and can help keep toys during the travel.
Tether attachment: A tether attachment is an extra strap for safety as it clips from the top of the car seat to a clip anchor in the car. All new cars and vehicles come with a tether anchor. If you already have a car seat without a tether attachment, you can also buy a tether kit.
Sufficient padding in the car seat: Most children resist car seats at first. Soft cushioning around their head, neck, and back will ensure a smooth riding experience and also minimize movement within the seat.
Machine-washable seat cover: It is a no-brainer that toddlers are messy and will eat and likely puke more than once on the car seat. It can be an expensive affair to frequently get your car seat professionally cleaned. It can also deteriorate the cushions. A machine-washable seat cover is the best way to keep muck at bay and maintain the hygiene of the child car seat.
Compatibility with your car: It is always wise to check well in advance if the car seat you are ordering is compatible with your car. Some old cars do not support newer car seat models.
Final Words:
The ultimate choice of car seat depends on several factors including your car, how frequently you go out and how do you plan to use it. There isn't a one size fits all approach. However, if you are looking for the best group 2-3 car seat that is sturdy, can be easily installed and will keep your child safe and comfortable we vote for Britax Römer KIDFIX SL Group 2-3 (15-36kg) Car Seat – Cosmos Black. While the others are equally efficient, this one is highly rated and recommended by users.
Last update on 2023-11-30 / Affiliate links / Images from Amazon Product Advertising API