If you have landed on this page, you are probably looking for the best baby car seats for the new arrival in your house. A baby car seat is much more than just a rule. In fact, it is a mandate to put your baby in the baby car seat only because it ensures safety on the unpredictable roads.
Baby car seats are safety harnesses that cushion your baby against any bumps on the road and also in the misfortunate occurrence of an accident. They also ensure proper posture for the child on the go and make it easy for you to carry them from car to inside and vice versa.
It may, however, get pretty overwhelming to choose the best baby car seat for your family with so many options out there. Overall these years of my experience with families of little kids, I have observed that some of them just buy the most readily available variant without putting in a lot of thought.
Top 3 Best Baby Car Seats
It is very important to consider multiple factors including weight limits, suitability for your car, harness system, safety considerations etc, before investing in the baby car seats. In this article, I will try to help you make an informed decision when it comes to buying the right baby car seat in the UK
Here is the list of best baby car seats of 2020 in the UK
1. Britax Römer Evolva Baby Car Seat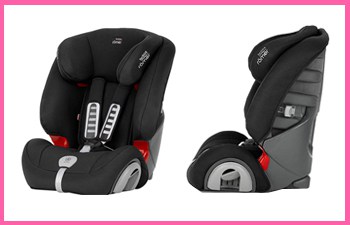 Deep and softly padded side wings: The Britax Romer Evolva baby car seat is designed to keep your baby safe and comfortable. The cushiony baby car seat not only provides great comfort but also protects the baby from sudden jerks. Its padded wings keep the baby secure and happy while travelling.
Grows with your child: The baby car seat is apt for babies weighing between 9-36 kgs. A parent doesn't need to worry about replacing the baby car seats with another one while your infant continues to grow. You can easily switch its internal harness to a car's seat belt and secure your baby. The Britax Romer Evolva baby car seat is one of the very few to provide the feature of intelligent adaptability.
Smooth and multi-level reclining: The baby car seat has an adjustable seat that can be reclined into a position that's comfortable for the baby. Its multiple reclining options ensure that babies do not feel the strain.
Adjustable harness and headrest: The baby car seat is quite flexible and can be adjusted as per the need of the parents. The seat can be transferred from one car to another without going through too much trouble. It is quite lightweight and can be fitted safely in almost all cars. The Britax Roemer baby car seat works with renowned car manufacturers like Porsche, Volvo, and Mercedes-Benz and can be installed in almost all their models. Simple installation: The Britax baby car seat is easy to install. Its three-point seat belt allows parents to use it the way they want. It can either be used as a harness or a seat belt, all the while keeping the baby secure. The harness has a 5-point locking mechanism that keeps the tension correct in order to keep your baby properly secured and comfortable at the same time.
Evolve 1-2-3 SL SICT: The Britax Romer Evolva baby car seat comes with excellent Side Impact Cushion Technology that protects infants from sides as well, thereby providing them all-around comfort and safety.
Click & Safe audible locking mechanism: This intelligent locking system allows parents to adjust the harness correctly. When the harness is neither too loose nor too tight, that is, it is harnessed correctly; there will be audible click sound letting you know that the baby is harnessed aptly.
Completely made in Europe: The product is completely manufactured in Europe and is also thoroughly tested at Company's own crash-test centre. It is manufactured with utmost precision, with the philosophy of 'made with care'.
Less use of chemicals: To ensure that your baby doesn't suffer from any allergies or chemical reactions, the baby car seat is made using the least possible chemicals. The company has ensured that no harm comes to the infants who use their product.
Bottom Line: Overall, this great product offers attractive Features and provides utmost safety to the children. The best baby car seats at an economical price value.
2. Britax Römer Eclipse Newborn Car Seat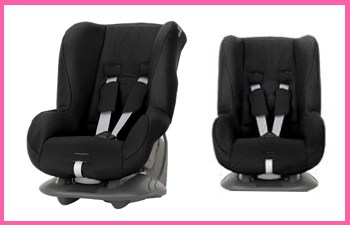 TUV certified for aircraft travel: The Britax Romer Eclipse Group 1 car seat is TUV certified which states that it is completely safe even for air travel. It is approved to be used on planes and comes with an optional fitting kit for aircraft. The design and 5-point locking mechanism provide the utmost safety to babies when flying. Simple installation: The Eclipse baby car seat is quite easy to install. It is one of those baby car seats that come with a three-point seat belt and a two-point lap belt. Not only can it be fitted in a variety of cars but also in an aircraft seat. To provide additional safety, the seat can be installed in the middle of the backseat to prevent any damage in case of a side collision. 5-Point Harness: 5-point harnesses are the best way to keep your child secure while he is travelling. This keeps your child safe in all kinds of accidents. The 5-point harness system comes with an audible click feature that informs the parent when the baby is harnessed correctly, that is when it is neither too loose nor too tight. The clicking sound occurs only when the harness is tensioned correctly. Lightweight: The Eclipse baby car seat has a lightweight shell that allows parents to install it even in cars with limited spaces. However, the compact design does not compromise with the safety features. It is easy to fit and can be transferred comfortably from one car to another. Multi-recline positions: The baby car seat comes with 4 recline positions that offer a stress-free journey. You can now keep your baby secure without having to worry about his comfort. Flexible and adjustable: The baby car seat is not only lightweight but also comes with a slim base. These two features not only allow it to be installed quickly but also in compact spaces. The seat belt comes with two as well as three-point belt system for versatile use. Superior protection: The Britax Romer Eclipse Group 1 Car Seat is one of the few baby car seats that provide all-round safety to your kid. It has a fully padded deep shell with side wings. Moreover, it has audible click 5- point harness feature that keeps your child safe and secure. It is designed to protect your child from the side as well as frontal impact thereby ensuring a safe and comfortable journey. Deep side wings: The group 1 car seat comes with deep side wings to protect your child from side impacts. The side wings are also highly padded to absorb all the force that comes from the impact thereby reducing the chances of injury. Padded crotch buckle: The buckle provided at the crotch or pubic area is padded to ensure that jerks do not harm the child in its most sensitive area. Whenever there is a jerk, the first point of impact is the crotch area, which is duly protected by the padded buckle.
Bottom Line: Its slim base gives them every reason to install it in your cars or take them even in aircraft. Adjusting of the reclining system is easy and can be done without disturbing the child. Its pitch control system prevents the forward movement of the child in case of an accident.
Check Latest Price ➤
3. Graco Junior Maxi Car Seat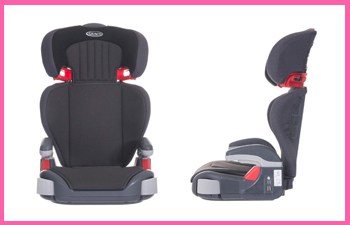 Adjustable seat belt: The intuitive belt routing indicates exactly how to fit the seat belt. The integrated seat belt guide in the headrest checks whether the seat belt is correctly positioned depending upon the height of the child. Reclining backrest: The backrest can be reclined in 2 positions depending on whether the child wants to sit upright or lie down and sleep. The high backrest protects the baby from all kinds of impacts and raises them to the proper height to tighten the seat belt. 2 hideaway cup holders: This infant car seat comes with to hideaway cup holders on either side of the seat. These cup holders can be folded and kept away when not needed. With 2 cup holders, parents can carry milk as well as hot water bottle/ sipper. Adjustable armrests:  The Graco Junior Maxi Lightweight Booster car seat comes with adjustable armrests that can be adjusted according to the height of the baby. Lightweight and durable: This car seat is lightweight and can be easily shifted to different vehicles. It has been manufactured with a highly durable material that makes it rough and tough. Open loop belt: The open loop belt allows you to use the vehicle seat belt to harness your kid. It lets you guide the vehicle's seat belt to the car seat's lock. Maintenance: The seat cover can easily be removed and machine washed, thereby making it user-friendly.
Bottom Line: A highback seat booster allowing an easy travel of 4-12 years is quick and easy to adjust. The armrests also grow with your baby height and also secure their beverages in place with its two cup holders. With its machine washable seat cover, it becomes easy to clean. With little more padding, it can rank the no.1 car seat for babies
Check Latest Price ➤
4. Graco Affix Highback Booster Seat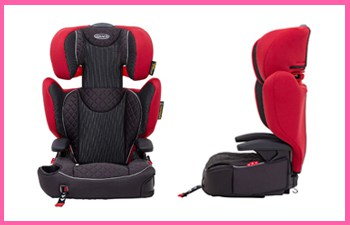 High-back Booster: The Graco Affix Highback Booster Car Seat is suitable for a baby between 3-10 months old. According to AAP, it keeps your child safe in a high back booster seat. Once your child is older than 10 months it can convert to the backless mode.
ISO catch connectors with self-buckling: The connectors are so secure that the booster seat stays in place and remains steady so your child is secure and comfortable at all times. If the child is independent it can easily buckle itself without any help from you. The specially designed front adjustment in the booster allows you to easily tighten the seat to your car and strengthens the safety for your child.
Adjustable headrest: This model has an adjustable headrest that makes your child more comfortable. If your child falls asleep the headrest can be adjusted so that the baby's head does not fall sideways and it cushions the head so the child can sleep peacefully.
Kid approved storage: The car seat comes with integrated cup holders to hold your child's water bottles or cups or snacks. There is a hideaway storage compartment that can be used to store small toys or games.
Comfortable travelling: The seat is so comfortable that your child enjoys his ride. The headrest has multiple layers that gives the child extreme comfort. Also, the full covered backrest gives your growing child full support.
Easy installation: The car seat has a unique one hand, front adjust Latch system that can be easily installed, in just seconds.
Easy to maintain: The seat is made from a user-friendly fabric. The cushion can be machine washed. Soft cleansers can be used to wash the seat cover.
Energy-absorbing foam: The seat is stuffed with foam that absorbs energy and cushions your child when he is sleeping so that if you suddenly have to apply your brakes the seat absorbs the jerk without your child feeling the impact.
Bottom Line: A highback booster to provide a comfortable and secure ride for the children. One hand adjustable seat and comfortable padding are all equipped for child's pleasant travel. Cup holders and pull out storage trays are some other additional added by the company. Thus, this Graco product is a perfect demonstration of the company' commitment to comfort, safety, and durability.
5. Britax Römer Adventure Newborn Seat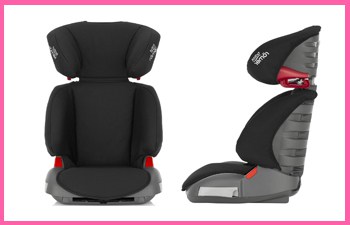 Highback booster protection: The highback booster protects the child in three ways. The seat shell provides the baby protection from head to hip, especially from a side impact. It has deep padded wings that keep the child secure from all sides. The upper and lower belt guides give correct positioning of the seat belt. The padded headrest gives the baby's head extra protection. Adjustable Headrest: The Britax Romer Adventure car seat comes with an adjustable headrest for the comfort of your child. It allows you to adjust its height according to the height of the baby as well as that of the vehicle. The car seat can also easily be transferred from one car to another. Side impact protection: The side wings of this car seat are deeply padded to keep your child secure from any kind of side impacts. Secure seat: The three-point car safety belt helps the seat to be fastened securely to the car. The seat belt can be tightened through the clamping belt of the car seat. Easy pull out storage tray and drink holder: This helps to keep your child occupied when you are busy doing something. Lightweight seat: The Britax Römer Adventure Car Seat has a lightweight yet durable shell. It is easy to carry and can be fitted comfortably to almost all cars. Drink covers: The car seat comes with drink holders on both sides of the seat so that whenever your child wants a drink or something to eat it is handy. Adjustable backrest: The adjustable backrest allows the baby to match the angle of the vehicle seat thus providing a better fit and more comfort to your baby.
Bottom Line: This ergonomically highback booster is all set to give your child a comfortable journey. It grows with your child and secures tightly to keep the child in place. However, its seat cover needs a bit improvement in both designing and positioning. But still, it proves to be a quality and a durable product.
Check Latest Price ➤
6. Maxi-Cosi Axiss Toddler Seat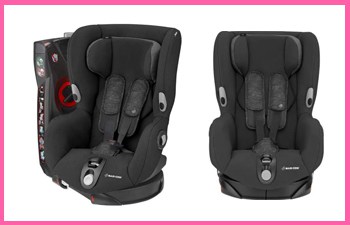 90-degree swivelling seat: The swivelling seat makes it easier to put in or lifting out your child. Once the child is slightly older it can get in or out from the seat on its own. Integrated with belt tensioner and Color indicator: The seat belt tensioner ensures that the seat fits securely in the car. There is also a colour indicator that lets you know whether the seat is locked securely in forward-facing position. Harness and headrest adjustments: The headrest and harness can be adjusted with one-hand according to your child's size age and comfort. It has a 5 point harness for extra security. It is built in such a way that it can adjust to your growing child's needs. There are belt hooks that keep the harness out of the way not in any inconveniencing the child. Side Protection System: The forward-facing car seat side protection system offers the best possible protection against side impacts. Reclining positions: This seat offers multiple reclining positions to make your child's journey comfortable and without mishap. Extra padded seat, armrest, and headrest: The seats are made of comfortable material and is well padded to keep your kid snug and cosy. Simple installation: The car seat is very easy to install and should be installed forward facing using the vehicle's 3 point seat belt.
Bottom Line: Maxi Cosi understands the perquisites of being a parent and the problems attached to it. With its products, you get to enjoy every moment of your journey with your toddler. It is efficiently built that in a simple click places the child in his place. In addition, its safety and comfort features make it a great reclining car set to rely on.
Check Latest Price ➤
7. Maxi-Cosi Tobi Group 1 Seat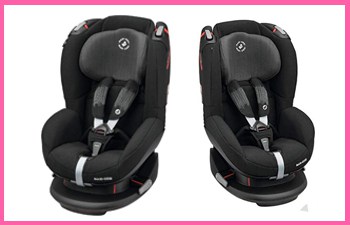 Installation with car's seat belt: The car seat is secured to the car via intuitive belt routing using the car's own seat belt. The belt tensioner and router ensure that the seat is secure. Harness and headrest adjustment: The spring loaded harness keeps the straps and buckles out of the way so that putting in your baby is not difficult and the baby is comfortable. A soft head hugger gives your child's head extra cushioning. Reclining position: The seat has 5 reclining positions so that your child can sit upright or lie back and sleep in the cosy seat. This seat is built higher than other baby car seats giving your inquisitive child a better view of the outside world. Colour indicators: Once the seat is installed in the car the colour indicators tell us whether the seat has been installed securely. Side Protection System: The forward-facing car seat side protection system offers the best possible protection against side impacts. Thus your child is safe even if sudden brakes have to be applied. Easy to maintain: The seat comes with a cover that can be removed and washed. Guarantee: The product comes with a two years guarantee.
Bottom Line: A forward facing car seat featuring comfort and security of the toddlers. Tobi has manufactured it with color indicators that indicate the safety of the child and comfort level. Choose from 5 reclining positions with disturbing the little one and moreover, you can operate it with a single hand.
Check Latest Price ➤
8. Diono Monterey Highback Booster Seat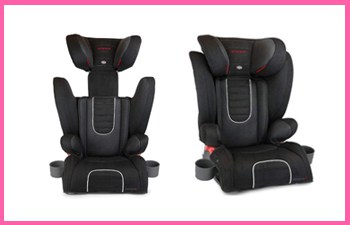 Side impact protection: The young sport comes with side head and torso wings that protect your child from side impact. It has side impact in the head, side and hip areas of the seat. The high sided seat base with arms protects the hip area. Harness and headrest: The 5 point harness and headrest can be adjusted three times according to the comfort and safety of the child using the easy harness adjuster on the rear of the seat. In case, of a grown child the harness can be removed and the headrest can be further adjusted two times as per the child's size. Well padded seat: The seat is highly padded made from high quality fully breathable ergonomically ribbed foam that provides warmth and cosiness to your child. The Young Sport has an insert cushion for a small child which can easily be removed once the child grows older. Adjustable seat belt: The three-point car safety belt helps the seat to be fastened securely to the car. The seat belt can be tightened through the clamping belt of the car seat. Easy to install: The set is easy to install in your car with the help of the car's seat belt. Easy transportation: The seat comes with practical, carry handle on top, designed in such a way to make it easy to take from one place to the other.
Bottom Line: This is a really good car seat for the little ones, its comfortable and has a nice amount of padding on the seat and back. Diono is the ideal solution for today's "on the go" family, with state-of-the-art product designs that combine safety and convenience so that every family excursion can be an enjoyable experience.
Check Latest Price ➤
9. Cybex Pallas-Fix, Toddler Seat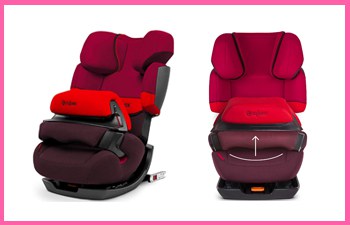 ISOFIX connect system: The ISOFIX connect system secures the seat to the car securely providing extra stability for the child. This facility is optional. Two seats in one along with adjustable safety cushion: This car seat has been designed such that it can be used for more than 11 years. In group 1 the car seat has an adjustable safety cushion that resembles an inflated airbag protecting the child in case of a collision with the use of impact absorbing materials. For a child aged 3 and above a simple conversion turns the seat into an award-winning Cybex Solution X-fix. 3 Position reclining headrest: The patented 3 positions reclining headrest has the technology that ensures that your child's head remains slightly back and prevents it from falling forward when the child is asleep. It can easily be adjusted using just one hand. In case of a side impact collision, the baby's head remains within the safety zone of the seat. It has 11-position height adjustable headrest that can be adjusted as per the comfort of the child. Side impact protection: The built-in LSP system provides excellent side impact protection for your child. Material: It is made from a sturdy and long-lasting material which is easily machine washable.
Bottom Line: The core aim of the brand is to provide the toddlers with an optimum comfort level with a combination of safety and durability. Its innovative styling and Cybex designing make it a great choice for infants.
Check Latest Price ➤
10. Britax Römer Duo Plus Seat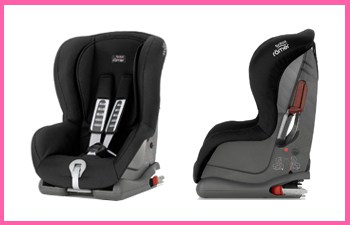 Deep protected side wings: The seat has deeply padded side wings that keep the child protected in case of any side impact. It also makes the baby more snug and cosy. Multi reclining positions: The seat is designed with three recline positions keeping in mind the child's comfort which is easily adjustable. Pivot link system: In case of an impact the patented Pivot Link directs the force into the vehicle's seat and then gently forward thus reducing the chance of any head or neck injury. 5 point harness adjustment system: The 5 point harness keeps your child secured to the seat and in case of any collision protects the child. Removable cover: The seat comes with a cover that is removable and easily washable which helps in maintaining hygiene for the kid. High-performance chest padding: The seat is provided with chest pads that keep the baby's forward movement to a minimum thus protecting it in case of any impact.
Bottom Line: DUO PLUS is all set to hit the market with comfortable and convenient baby car seats. However, it still needs upgradation in level of comfort, security and extra accessories like storage tray. Overall, it is a brilliant designed seat that can be transported anywhere with its unique lightweight system.
Check Latest Price ➤
Why do you need a baby car seat?
Below are some uses of the baby car seats that make it an indispensable purchase for your kid:
To protect your child from injury in case of a collision:
In case of an accident when the vehicle faces a collision with another object such as a tree or another vehicle, the sudden stop will not stop the bodies in motion due to inertia. This causes the bumps and jerks in case of a sudden halt. A baby's body doesn't have the control to hold itself, nor is it possible that someone holding the kid will keep the grip in case of a sudden and powerful jerk. This can cause the kid to collide and get injured.
To maintain proper body posture:
Different baby car seats are designed for different ages to perfectly accommodate the body of the kid, so a perfect posture is maintained. In case of holding them in your lap or laying on the seat, the posture can majorly go for a toss. This may cause orthopaedic ailments or muscle pains.
To stay hands-free:
Let us be reasonable, it is not possible to envisage on long road trips with a kid on your lap. It is painful as well as impractical for both the caregiver and the child. Baby car seats offers you the much-deserved respite from carrying them.
Normal seat belts can be dangerous:
Even we as adults always fasten the seatbelts when on the go in a car. However tempted you may be, it is quite dangerous to put a child in the same seatbelt. This can be a major strangulation hazard as well as the inadequate Car seats, on the other hand, come with a proper harness system designed specifically with the baby ergonomics in mind.
Better peace for the driver:
Let us face it, toddlers can be quite active and distracting all the while. Such distractions on the road may cost lives. The baby car seats are thus necessary, so the driver can focus on the driving.
Characteristics to look for while buying the baby car seats:
While adherence to safety regulations is a bare minimum for every car seat to be considered as an option, there are several other points to consider before buying the perfect baby car seats. Before choosing the right one, it is important to know about the types of baby car seats available in the market.
Baby car seats differ based on the state laws, there are broadly 3 categories of baby car seats based on stages of a child's life and offer different features. Mostly, the infants are required to be put in rear-facing car seats whereas toddlers can be put in the rear as well as a front-facing car seat if they fall under the specified limits of height and weight. Older children can be put in booster seats.
Here are the broad categories that the best baby car seat fall in:
Infant car seats: These baby car seats can be used up to 22-35 pounds of weight and face the rear.
Convertible car seats: Once your child outgrows the newborn stage, he/she needs to be put in a convertible car seat that is perfect for toddlers. This can be interchanged between the front facing as well as rear facing. The front-facing position is adequate to hold kids up to 60-65 pounds of weight.
Booster seat: This is the transition of your child from a kids' seat to the regular seat belts meant for adults. These are designed for kids above 4 years of age and offer height hike while in the regular seat of the car. A shoulder belt is used to secure the child in place.
While choosing the baby car seats for your family do not just go by the price. You must consider other factors such as canopy size, ease of installation, additional safety features etc.
Preloved Car seats:
It may not be a good idea to buy a used one from someone you don't know. A preloved car seat may come with compromised safety. You must keep in mind the expiration date of the baby car seats, the recall history of the model if any etc. Yes, you read that right, car seats expire too.
Suitability for your car:
Every seat model is different in terms of build and size. You must choose an option that fits your car. I have known many families that have chosen the biggest possible and fancy seat that never fitted well in their tiny car. You can also consider buying different baby car seats bases if you plan to switch cars.
Choosing if an infant car seat is necessary:
As a family that is bringing home a newborn, you are probably too dominated by expenses. While a convertible may look like an ideal option, an infant car seat comes with its own set of advantages. It prevents you from waking your sleeping worm by allowing you to pick up the complete seat than unbuckling the baby. It can also serve as a baby bed when you are in a gathering or at someone else's place.
Infant car seat and stroller compatibility:
If you decide in favour of buying an infant car seat, it is a value-add to buy one that is compatible with the stroller. You can also choose the stroller first and then a matching seat from the same manufacturer. You can also invest in a travel system i.e a set of the car seat and a stroller. Separate adapters are also available if you purchase the toddler seat and stroller separately and they are not compatible.
Here are some good to know tips while using the baby car seats
Make sure the car seat is installed in the rear seat of a car
Deactivate the airbags if you use a booster seat in the front seat of the car.
Always follow the manufacturer instructions of age and weight
Take regular stopovers on a long journey to prevent the child from tiring
Use a car seat even for short distances
Always keep the car seat properly secured in the car even if you are not using it
Do not use second-hand car seats from people you don't know
A newborn car seat is probably the first and the most important investment you make for your child. Make sure that you do not make a decision in haste and buy the best baby car seats model that not only suits your budget but fulfils all important criteria to be a safe option. Remember, if you are going to share the responsibilities among family members, ensure the compatibility of the seat with every car that it is going to be used in. The above analysis will help you choose your options and make the right decision in finding the best baby car seats.
Last update on 2023-11-29 / Affiliate links / Images from Amazon Product Advertising API