Electric Pumps: 2021 Buyer's Guide
Best Electric Breast Pumps 2020 UK: There is no denying the fact that breastmilk is indeed best for your baby. It is the purest form of nutrition and a dose of immunity that you give the baby right from their birth. Every little munchkin comes into the world with a natural sense of sucking milk and nurturing themselves. While feeding on the breast is the best way, not always can you be available to feed directly. Such instances call for pumping or expressing breastmilk that can then be fed with a spoon or a bottle.
Apart from urgent unavailability, there may be other reasons for pumping breastmilk. These include inverted nipples or other latching issues, tongue tie in the baby, premature babies that cannot suck properly, sore nipples, long working hours, change of caregiver etc.
Top 3 Best Electric Breast Pumps
A breast pump ensures that whatever be the case, the mother's milk will always be available for the baby. You may be a working mother who needs to pass on the feeding responsibilities to someone else or someone who just needs expressed milk for stepping out for a while. The type of breast pump you need will depend on your availability, the reason for pumping, the frequency of pumping, your baby's requirements etc. Here is the list of best electric breast pumps of 2020 in the UK.
Electric Breast Pump Reviews
1. Medela Swing Single Electric Breast Pump Review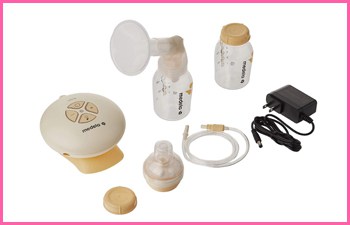 Efficiency: All thanks to its 2 phase technology that stimulates milk in no time.
Daily usage: An ideal pump specially designed for working mums. This electric breast pump would save your time in pumping.
Easy and comfortable: The pump is painless to assemble and clean and most importantly, you can easily switch from one phase to another or choose from the best vacuum option. The battery combined with a belt clip facilitates in easy portability.
Expression technology: This device is technologised with baby's natural feeding behaviour resulting in a 2-phase expression technology. In this, the system mimics the baby's natural sucking rhythm to produce more milk in a short period of time. Phase 1 includes the stimulation of milk with fast and light pumping flow. Phase 2, on the other hand, is the expression, which ejects milk smoothly and effectively.
Bottom Line: With a lanolin nipple cream and contact nipple shields, a great device will live by your expectations.

Check Latest Price ➤
2. Bellababy Dual Electric Breastfeeding Pump Review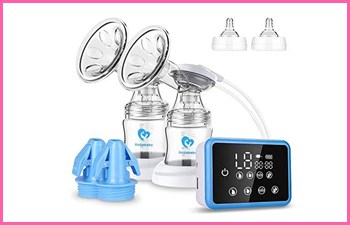 Massage stimulation for smooth milk flow: For a comfortable and pain-free feeding, the material is made with super soft silicone for a rhythmic sucking by the baby.
Facilitates 4 adjustable modes: This electric breast pump comes with 4 different adjustable modes, which can also be changed automatically.
Huge LCD Screen: The monitoring screen is big enough to give clear details even at night.
Feeble noise: It's working sound is below 45db just like a whisper, which means it is quiet and won't wake the whole house awake at night.
Suction control system: Bellabay comes with 9 suction levels according to the sucking capability of the baby.
Built-in battery: Its battery can run up to 2 hours.
Hygiene efficient: The closed system of the pump provides anti-backflow protection that separates mil from the air and keeps the device hygienic.
Powerful pump pressure: This electric breast pump is strong and powerful to stimulate a good amount of milk in no time.
Outdoor usage: Its good battery back-up and easy charging with a power bank make it a reliable product for outdoor use.
Read: Complete review of bella baby breast pump & buying guide
Bottom Line: Apart from quality, this is a great product to stoop for. The efficiency and reliability make it stand apart from all other products.

Check Latest Price ➤
3. Lansinoh Dual Breastfeeding Pump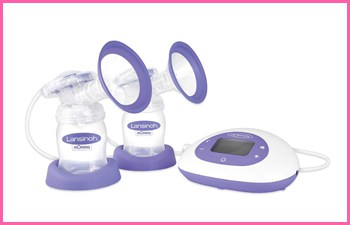 2-in-1 electric pump: An ultimate choice for the women who wants comfort and convenience of either single pump feeding or double pump feeding.
Designing: With enhanced adjustability and three customisable pumping methods, you can milk the maximum amount for ultimate production. An LCD screen is also fitted to track suction and other settings. This pump is designed specially by keeping in mind the hygiene of both mother and baby.
Adjustable suction: You can choose from 8 adjustable suction levels for easy comfort. Use '+' or '-' control buttons.
Operations: This electric breast pump has 3 pumping styles and 8 suction levels for breastfeeding mums to match babies' natural feeding patterns and maximise milk production in comfort.
Closed System: The electric breastfeeding pump is a closed system which prevents your breastmilk from entering the tubing and optimises suction levels, making your expression more effective.
Bottom Line: This is a trusted brand for more than 30 years and moreover invented by a breastfeeding mother. Both healthcare professionals and mothers have trusted every product under the brand of Lansinoh.

Check Latest Price ➤
4. Philips Avent Single Breastfeeding Pump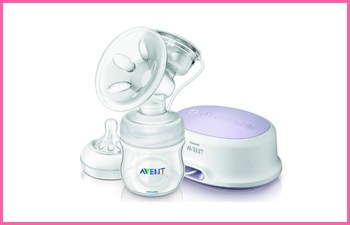 Comfortable pumping: Made with a unique designing by Philips this electric breast pump ensures that your milk flows directly from breast to bottle without any spillage. This means you can sit in any position without leaning forward to pump your milk into the bottle.
3-speed system: This convenient device is ideal for frequent users. It is operated with a single of touch of the button. You can also be customised the speed that suits you the best.
Gentle massage: The massage cushion has a velvety texture for a warm feel to your skin with a gentle stimulation of the milk.
Inclusive of the Natural bottle: Philips Avent has added a 4-ounce natural bottle with a nipple. This makes it easier for you to combine breastfeeding and bottle feeding to your baby.
Easy storage: The electric breast pump is made with a compact designed so that you can easily place it on your breast. The base is small and lightweight, which can be carried anywhere.
Effortless assembling: Thanks to the segmentation of the device into smaller parts, cleaning becomes easy.
Bottom Line: Its slim base gives them every reason to install it in your cars or take them even in aircraft. Adjusting of the reclining system is easy and can be done without disturbing the child. Its pitch control system prevents the forward movement of the child in case of an accident.
Check Latest Price ➤
5. Nekan Electric Breastfeeding Pump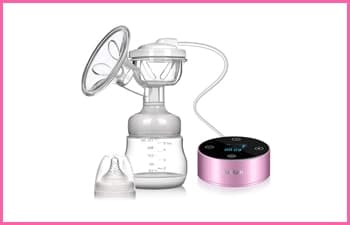 Functioning: This superior breast milk pump has the capacity to mimic the baby's natural sucking where adjustments can be made up to 9 levels. This is to give an express milk experience to your little one. With a smart LCD equipped in this device which allows you to give a clear night vision. With its memory function loaded inside your every pattern is recorded making it convenient to pump.
Convenience: Included with a USB charger and a built-in lithium battery makes it a powerful beast. Additionally, it is designed to be extremely portable and lightweight. This electric breast pump is a closed system that avoids backwards flowing of the milk. So that it doesn't get contaminated.
Massaging Cushion: The velvety soft cushion of this pump mimics baby's lips that gives enough massage so that mums can flow out more mil comfortably.
Bottom Line: This excellent device is worthy of your every penny. It is comfortable to use and ensures effortless cleaning.
Check Latest Price ➤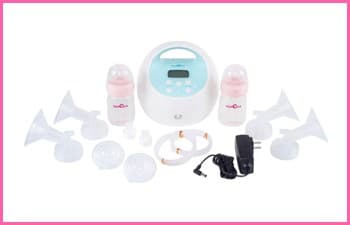 Operation: One of the most effortless devices, which has made milk pumping simple and easier for many mothers. With inbuilt batteries, it becomes easy to pump no matter where you are.
Designing: An extremely noise-free electric breast pump that does not disturb anyone in your house especially your baby. The nightlight and timer of 30 minutes make it a great choice for working mothers.
Built-in Battery: This electric breast pump has an in-built rechargeable battery (approx 3 hours on a full charge), making pumping easy wherever you are.
Noise Free:  It is extremely quiet allowing you to pump without disturbing others or even your sleeping baby.
Auto Power Off: As well as a night light, timer and 30-minute auto power off, it also has all the accessories for double pumping which are BPA free, making it a great choice for expressing mums.
Bottom Line: An average product that does the job well in an affordable pricing.

Check Latest Price ➤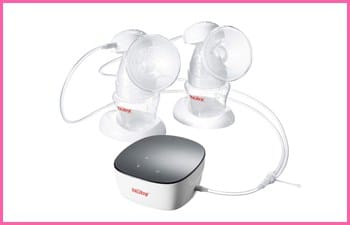 Functioning: This unique product allows to milk down and mimics baby's feeding style of sucking for comfortable breastfeeding. No more need of squeezing the nipple all you need to do is pump out the milk smoothly. There is an addition of 20 black and 30 white disposable breast pads. A superabsorbent lining is also attached for absorbing the extra milk.
2 phase system: It's both stimulation and expression system makes milk in no time.
Display: Digital touch-screen display panel perfect for night time expressing, monitoring expression time & adjusting levels. With up to 9 stimulation & expression functions for both boobs at the same time!
Battery: 

Portable, convenient for on the go – either re-charge the Li-ion battery that lasts up to 3 hours or plugs in directly to the wall. Quiet & discreet so you can use while watching your favourite tv show
Bottom Line: Altogether, Nuby has manufactured a valuable product, which helps in comfortable breastfeeding and easy porting.product.

Check Latest Price ➤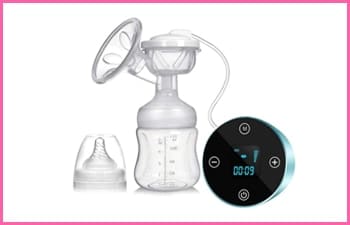 Ease and efficiency: This breast pump stimulates your milk quickly and effectively. It is designed with a powerful pump to produce more milk in no time.
Adjustable mode: There are 9 levels from which you can choose the sucking capacity of your baby.
LCD screen with low volume: The screen is manufactured in such a way that gives a clear picture even at night. You can also adjust the noise levels so that no one is disturbed in the family.
Massage cushions: The pearl-like texture mimics the baby's sucking flow and gives your breast enough massage to keep it comfortable and painless.
Bottom Line: Overall, this product is advantageous and gives better milk stimulation in a short period of time.

Check Latest Price ➤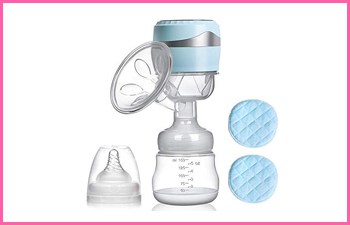 Accessibility: The breast pump comes all-in-one design, which is useful for new mums. Compared with the double electric breast pump, this pump is super simple and convenient. As soon as you get this little machine, you just need to clean and start using it. You can also operate the pump with just one hand and also it is easy to carry out.
9 Levels Pumping: This electric breast pump has 3 modes and 9 levels pumping mode which makes the pump more powerful. Stimulate, Massage & Expression are the three modes and that has 9 different suction levels.
Cleaning: It offers a convenient and easy assembling system. Within a couple of minutes, you can assemble or disassemble this product. In addition, you can also clean it with its great built cleaning system.
Hygiene: This electric breast-feeding pump is equipped with a classic hygienic designing that prevents from milk to come in contact with the tube.
Bottom Line: Overall, this product provides great usage and easy operational functions. Moreover, this is value for money.

Check Latest Price ➤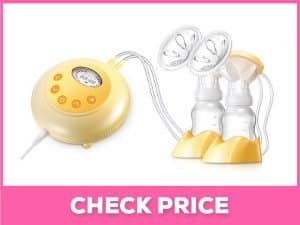 Adjustable Suction: This comfortable and easy to use suction pumps comes with adjustable suction levels. You can customise with '+' or '-' controls.
High Quality: As it is FDA approved and BPA free, all parts are made from food-grade silicone, which is safe and hygienic for both baby and mum.
2-way Breastfeeding: You get multiple speed modes and a variety of setting options. You can choose from single or double pumping. Works well for heavy duty breastfeeding for working mothers.
Lightweight: Its lightweight designing makes it a compact and portable device. You can disassemble the parts and clean them thoroughly.
Bottom Line: With its robust functioning and easy operation, this electric breast pump has become the choice for many mums.

Check Latest Price ➤
Here is how you can choose the perfect electric breast pump for your needs:
In order to zero down on the perfect breast pump, you need to make sure of the frequency with which you will be pumping. Whether you need to pump occasionally, once daily or multiple times a day. Occasionally pumping mums can do with manual breast pumps, whereas those who need to be expressed milk every day will need electric pumps. Electric breast pumps are fast as well as lets you pump hands free. It also offers more milk output for the lesser hassle.
A single breast pump is ideal if you plan to pump only a few times a week, but if you want to pump multiple times a day, you must opt for a double breast pump. A double breast pump pumps from both breasts at a time. Either way, electric breast pumps are a good option that lets you build a stash and fulfil the nutrition needs of your little joy in an efficient and convenient way.
The coveted features of good electric breast pumps are:
Superior suction and strength
Faster pumping output
Easy cleaning and assembling
Low level of noise
A good quality build material
It may be a little overwhelming for you to find the right breast pump out of numerous options available in the market. I have assembled a list of best electric pumps above based on my experience as well as that of mums i have worked in close association with. I have also considered the reviews of several other women. These have been judged and rated based on pumping convenience, ease of setup, portability etc.
As a new parent, you will already be overwhelmed with the entire idea of feeding, burping, sleeplessness and coming to the realisation that there is a little life that completely depends on you. Choosing new products with the sheer abundance on the market shelves and online will again be a great deal When it comes to choosing a breast pump, you will have a plethora of options coming up when you search online but not all breast pumps are the some and not everything suits everyone.
While choosing a breast pump, it is quintessential that it mimics the motion of your baby sucking onto your breast. This is precisely what will set apart an effective and comfortable breast pump from just any commercial product out there. An ineffective pump will not only be a waste of money but may also have you doubt your breastmilk supply or cause discomfort to your nipples.
The first step in choosing a breast pump is determining the kind of pump you need:
Manual breast pump: In a manual breast pump, once the suction is created, you need to keep pumping a rubber ball or a tong style pump. The output is usually less and slow in a manual pump. It is ideal, if you need to pump only few times a week and do not need to build a stash. These are cheaper but not very convenient for more than occasional use
Electric breast pump: An electric breast pump comes with a motor that helps pump milk from your breasts. Depending upon the electric breast pump type, the output is fairly high and the time taken is less. It is ideal for mothers that want to pump more frequently and also several times a day. These pumps use technology to perfectly imitate the baby's natural sucking movement. There are battery operated pumps too and they are better for mobility for situations such as travelling or when you need to pump at work. There are also pumps that have both electric as well as battery operation functionalities.
If we look at the natural breastfeeding process, the beginning of the session usually involves short and fast sucking movements that offer stimulation to the let-down reflex. As soon as the milk flow starts, the sucking movements become slower and stronger to take in a high volume of milk. Looking for a breast pump that imitates these movements will offer a more natural way to pump and will be more effective
Single and double breast pumps: The confusion doesn't end at choosing between manual, battery operated and electric pumps. There is a further choice of single or double breast pump. Here too, the pumping frequency is a deciding factor. A single pump is perfect for pumping every day but if you have a medical condition that requires pumping round the clock or if you return to work, a double electric pump is a more convenient choice.
The output volume for a double electric breast pump is nearly 18% higher than the single pump for the same amount of time that you spend expressing separately.

Choosing a breast pump that works for your individual needs and lifestyle:
Every lactation journey is unique and there is no one formula approach that suits all. The ideal breast pump for you is also determined by the stage of lactation you are at, the baby's needs and how serious you are about expressing and feeding.
Here are some scenarios in which you may need to express milk:
The baby doesn't latch properly and every feed needs to be expressed and offered: Some babies find it difficult to latch and suck for several reasons such as premature birth, special needs, low birth weight etc. Some medical treatments also require the newborn to stay separately from the mother. In some cases, the mother's health or anaesthesia recovery doesn't allow for early breastfeeding. In such cases where a newborn is involved and the supply is not yet established, a hospital grade pump is ideal. You can use it at the hospital or rent it out. It will help establish the initial supply.
Problems initiating a milk supply: Early breastfeeding days are full of confusion regarding the supply. Many times, the milk takes time to start flowing properly. Hospital grade pumps are a great rescue in such situations too. A lactation consultant will usually recommend one based on the situation.
You are an exclusively breastfeeding mum and need to pump sometimes for heading out: Manual pumps are good for such occasional pumping sessions when you can be gone for little time while a caregiver can offer pumped milk to the baby.
You need to return to work and still want the baby to have breastmilk: Such situations require regular pumping several times of the day and will also require you to carry the pump to and from office. A lightweight double electric pump is ideal to achieve this.
Here are some other parameters that you need to weigh your pump on:
While buying a pump based on a friend's recommendation may seem like a good idea, you both may have different requirements from your pump. Everyone has different lactation obstacles and one thing doesn't work for all. Here are some factors to be considered while choosing one.
Price: A new baby is a flood of expense that often weigh the parents down. While you need to stick to an expected price bracket, a very cheap pump may mean disappointment. If a pump you buy doesn't work, you will have to buy another one and that is again a waste of money and effort. Most insurances cover pump costs and if not investing in a pump is still cheaper than those packs of formula milk.
Milk flow: We all have different flow style of breast milk. If you have a heavy flow, you will need a pump that works with heavy usage and high volumes.  Each pump is designed differently. While some are meant only for occasional use, some are heavy duty for multiple sessions a day.
Usage: Consider your usage and pumping frequency. Buy a single or double pump based on your requirement.
Ease of carrying: Resuming work, a few weeks after childbirth needs a portable pump that you can use at home and at work during breaks. If travelling constitutes a major chunk of your year, a portable pump is quintessential. One the other hand, if you are a stay at home pumping mom, portability may be lower on your list of concerns.
Ease of cleaning: Easy cleaning and assembly are some important parameters to consider while choosing a pump. Complicated tubing and mechanism may put you off completely from the entire pumping process.
Adjustable suction: The same suction is not sufficient for all women. Adjustable suction lets you customise it if you need more or less suction than normal.
Power options: It is a good idea to opt for a pump that has both batteries and electric source in order to make provisions for a situation when the power is out or you are travelling. You may also want to look for car adapters to pump in the car.
Last update on 2023-09-20 / Affiliate links / Images from Amazon Product Advertising API