As babies get older, they get curious about a lot of things. They would like to try a lot of things and move around actively. Exploring their environment is one of the best ways for them to grow physically and mentally. As they get older, it will be best for parents and caretakers to find the best trike for 1 year olds.
What are baby trikes?
Also known as a push along trike or a kids tricycle, a toddler trike is a tricycle made specifically for babies and toddlers who are discovering their environment. Usually, it has a baby pram meets-bicycle style. It has three wheels so that the babies and kids can easily find their balance and keep themselves safe while riding.
Top 3 Trikes For 1 Year Old
How to find the top trike for 1 year old kids?
For you to be able to determine whether the toddler trike you will be getting for your child is the best, you have to look for the following characteristics on your choices of a trike bike for toddler:
Safety
As we have mentioned earlier, the safety of your kids is the most vital in any kind of activity. Several kids trikes that are manufactured have been tested and certified for safety. They usually come with safety bars and harnesses as needed. It will also be a good thing to consider getting a helmet and safety pads for your toddler.
Durability
Whenever you are buying high-ticket products for your children, make sure they are sturdy enough for it to last until the kids outgrow the product. You don't want the toddler trike to break while they are riding it, which might cause them injuries. This is especially important for families who are considering to give the toddler trike as a hand-me-down to their other kids or relatives.
Material
Make sure that the material used in the product is the ideal one for your lifestyle. The most common materials for baby trikes are steel or plastic. Plastic is easier to clean and lightweight compared to steel. However, steel is sturdier but might get rust after using it for a long time. Choose the one that fits your family's needs.
Functionality
There are various models of push along trikes with special features, including reversible handles, adjustable frames, swivel seats, and UV protective canopy, among others.
Portability
Consider also the weight and folding options of the trike bike for a toddler that you will get for convenient storage. You might want to bring it on an out of town trip with your toddler sometime. It will be best to check if it can be comfortably carried whenever the need to transport it arises.
Price
It will be practical if you will be able to get a high-quality push along trike for your child at a price that won't cost you a fortune. Compare the prices and the other factors first before paying for one.
With all these factors to consider, we have already made a list of the top trikes for 1 year old children available in the UK market. Listed down are the pros and cons of each product so that you will be guided in selecting the best one for your baby.
Trikes For 1 Year Old Reviews
1.
Fascol 4 in 1 Toddler Trike Kids Tricycle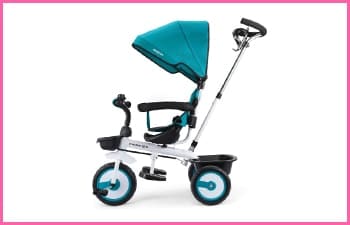 What we like
Long-term use as your baby grows with a high maximum weight capacity of 30kg compared to other toddler trikes
Convenient for parents as its adjustable non-slip push rod is directly connected to the trike front wheel and allows movement without changing directions
Safe with a safety fence, with anti-slip pedals, double break, and option to unlock the pedal from the wheels so parents can safely take control
Flexible to use in any road condition with its non-inflatable wheels made from EVA material
Strong aluminium alloy frame and convertible features make it suitable for every stage of your baby's development
Fun to use with a bell installed on the non-slip handle and a front basket to stash small toys, a back compartment for other essentials, and a bottle holder for convenient water breaks
Lightweight and easy to move around with the weight of 7.5kg
Certified with high quality by American Society of Testing Materials (ASTMF) and bears CE markings
What we didn't like
Made for older babies, starting from 12 months onwards as it only has 2-point safety harness and does not convert from a stroller
Bulky to use for travelling as it is not foldable
The backrest is not made from breathable mesh fabric
The Verdict: Best for long-term family use The Fascol 4-in-1 Toddler Trike with Detachable Canopy and Pushing Handle is the number 1 trike for 1 year old onwards, with its high weight capacity of 30 kgs, unlike most of the toddler trikes in the market. The convertible feature allows it to grow with your toddler until 5 years of age. It is also suitable for long-term use and can be handed down to other kids with the durable material that will make it last longer.
Check Latest Price ➤
2.
Boopi 4-in-1 Push Along Trike Stroller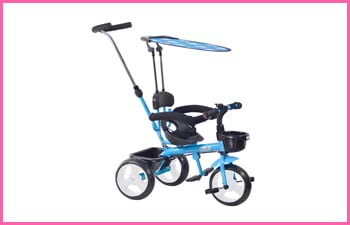 What we like
Sturdy with tyres made from puncture-proof EVA material and tubular metal frame
Secured for babies and full control for parents with safety bar and seat harness, foldaway footrest, soft rubber handgrip, detachable bell, front mudguard, and parental steering override
Flexible with adjustable seat, detachable toy box, detachable bottle holder, and can be used for different stages of toddler's development
Affordable with all the great features compared to other baby trikes available
What we didn't like
Might not be comfortable for small toddlers and long rides due to both unpadded backrest and seat with an only 2-point harness
Minimal adjustment options available and most suitable for older babies 12 months and above
Sunshade might not be large and thick enough to protect your baby from hot summer rides
Can be difficult to store as it does not have the option for folding
The Verdict: Best Kids tricycle on a budget The Boppi 4-in-1 Push-along Trike Stroller with Parent Steering Push Handle and Sun Shade for Baby and Toddler has nice features that come with a pocket-friendly price. This is the most suitable choice for families on a budget but would still like to have a high-quality push along trike for their toddler.
Check Latest Price ➤
3.
Little Tiger 4 in 1 Toddlers Trike Stroller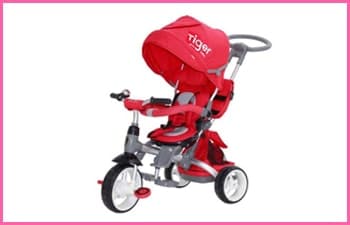 What we like
Free-to-grow for your child to be used for four different stages, simply lock and un-lock front handlebar to customize
Have a smooth manoeuvre of push along with trike for parents with a mechanism to control from the handlebar by pushing it left to right and it will automatically change the direction
Durable tires made from rubber that can be used on any terrain
Secured and safe with 3-point seatbelt, half-closed front mudguards, double back wheel brakes, padded seat cover, removable folding canopy, detachable anti-slip front-wheel foot pedal, and a foldable anti-slip baby footrest
Convenient for parents with removable push bar with handful parents bag, extendable storage bag attached on the back carriage basket
What we didn't like
Difficult to store and not travel-friendly due to lack of folding features and a massive weight of 13kgs
The fabric used is not breathable compared to mesh type kids trikes
The Verdict: Best ease of use for parents The Little Tiger 4-In-1 Toddlers Trike Stroller is one of the best trikes for those who are still needed to be guided by their parents. Its features are parents-friendly and compatible for busy moms or dads who would like to focus on spending time with their families than worrying about their baby's needs while being comfortable.
Check Latest Price ➤
4.
Little Tiger T400 Rotating Trike Tricycle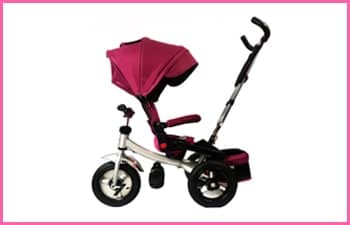 What we like
Continued use as your little one grows from 9 months old until 5 years old with a maximum weight of 25kgs
Can substitute as a baby pram even for small babies with the adjustable seat, which can be rotated and pushed forward or backward, and has 3 recline levels for the backrest
Highly customisable with a free-wheeling option for toddlers who still cannot pedal, foldable footrest, and removable leg rest tray for maximum comfort when kids lie down
Prioritises safety of your child with back wheel double brakes, anti-slip foot pedal, double safety 3-point padded belt, surrounding padded armrest with an open guard, and detachable and retractable canopy with extra extension hood visor
Cosy with removable and washable padded seat cover made from breathable mesh fabric
It comes with a telescopic padded parent handlebar that can be adjustable from 103.5 cm to 108.5 cm, which is higher than the other handles of baby trikes.
Has an accessory bag, water bottle holder, and storage basket for both the parent's and baby's needs
What we didn't like
Can be heavy for long-term carrying with its weight of 10.2 kgs
Challenging storage and transporting with non-foldable frame
The Verdict: Best for small babies' safety The Little Tiger T400 Kids Tricycle with Rotating Seat and Reclining Backrest is a great push along trike for families who will be getting a trike bike for their toddler early on. It is the best option for small babies who are just starting to discover how to ride at an early age. It can work as a comfortable pram for babies with its soft breathable mesh cushion that prevents overheating, 3recline levels of the backseat, and the moveable seating orientation. The telescopic parents handle will also be very useful for parents
Check Latest Price ➤
5.
Besrey Kids Trike 4 in 1 Tricycle Pedal Trike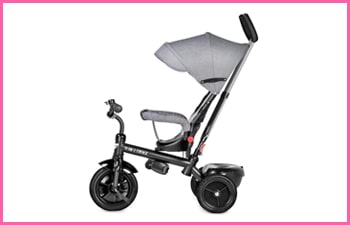 What we like
Convertible and allows continued use from 10 months old, and grows with baby from stroller set-up to self-riding toddler tricycle
Safe and secured to use with its 3-point seat belt, removable armrest, shoulder padding equipped with a reflective line, anti-slip handlebars, anti-slip pedals, and wheels without gaps that prevent your child's foot from being stuck in the wheel spokes
Ease of use for parents with the handle made of food-grade rubbers has full control of the trike while the child is riding
Comfortable for kids with soft, breathable, and washable cationic cloth material
Weather-proof with its 50+ UV sun-protecting canopy, detachable rain cover, and rear compartment with cover for that full protection from any kind of weather
EN71 Part 1 & 2 & 3/CE/2009/48/EC certified
What we didn't like
Tends to be challenging to transport and store as it is not foldable
The Verdict: Best for all seasons The Besrey Kids Trike 4 in 1 Tricycle Pedal Trike is the most suitable for safe and secured outdoor use on any kind of weather. With its large canopy with high sun protection, a detachable rain cover, and a cover for its rear compartment, you will be ready to use it outdoors any time of the year and won't be worried if the weather will not be perfect.
Check Latest Price ➤
6.
Kinderkraft Aveo Baby Push Along Trike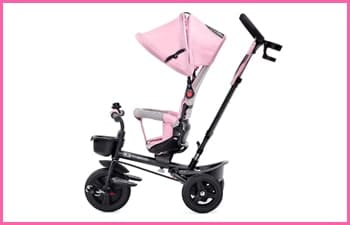 What we like
Prevents injuries and accidents with 5-Point safety belt, and soft protection bar
Safety and comfort combined with the breathable mesh backrest cushion, cushioned seat and handrails, foldable footrest, shock-absorbing, and non-inflatable rubber wheels, and a retractable large hood that protects from various weather conditions
Customisable with a choice to install with a rear-facing or front-facing seat, and can be adjusted based on the child's development
Fun for baby with the detachable bell, front compartment for toys, back storage for other items, and free-pedalling option so the child can freely pedal
Parent-friendly with a water bottle holder and practical pocket, both attached to the steering handle rod which gains control of the front wheel
The foldable frame allows ease of storage and transport
What we didn't like
Can be heavy for long-term carrying with its weight of 10.2 kgs
May fit as a substitute for a stroller but does not recline for smaller babies
The Verdict: Best for safe and cosy strolls The Kinderkraft Aveo Baby Push Along Trike combines safety and comfort. Its breathable backrest and cushioned seat, and shock-absorbing tyres make it cosy for babies for the younger and older toddlers. It also provides convenience to parents with the added features including the water bottle holder, practical pocket, parent-manoeuvre option, and the rotating seat to easily monitor the baby.
Check Latest Price ➤
7.
Little Tikes 4-in-1 Deluxe Edition Trike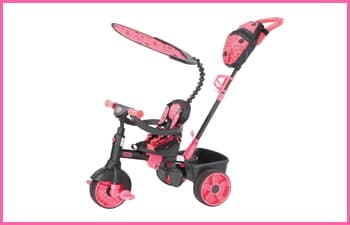 What we like
Grows with your child's development with 4 stages and has a maximum weight limit of 22.7kgs
Durable with metal frame material and quiet-ride tyres
Highly adjustable with 4 seat positions, customisable height, detachable canopy, and removable steering handle for parents
Secured for young babies starting 9 months with hard-to-find 5-point seat belt, removable and secured armrest, non-slip pedals, and fold-away footrests
Ample storage space with beverage holder, extra-large storage bucket, front basket, and an extra parent's pouch
What we didn't like
No free-pedalling option for younger kids
Parent steering override allows to steer the kids tricycle by changing its direction, unlike other trike bikes for toddlers that have direct access to the first wheel of the toddler trike
Not portable enough due to lack of foldable parts
The Verdict: Best for baby's day out The Little Tikes 4-in-1 Deluxe Edition Trike is the best trike for kids who are opting to go on a play date or fun day at the park. With the front basket in the front, spacious storage bucket at the back, a beverage holder, an extra parent's pouch, and even a detachable bell, you got in this kids tricycle everything that you will need for a fun-filled day outdoors.
Check Latest Price ➤
8.
Fascol 4 in 1 Children's Folding Tricycle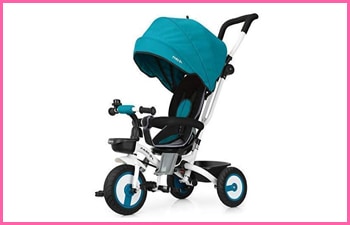 What we like
Can be used by kids as young as 6 Months with its 360° reversible seat for rear-facing orientation and parent-child interaction
Made from high-quality materials with wheels from solid rubber and frame combination of aluminium and Acrylonitrile Butadiene Styrene (ABS Plastic) which makes it durable with good impact strength
Allows long-term use and can be shared with the next siblings in the family with its maximum load capacity is 30 kgs and convertible features that are perfect for every developmental stage
High quality is tested with CE certification and US ASTMF certification, it's super safe and durable for your baby
Great for parents with handlebar directly connected to the front wheel for ease of manoeuvre
Multifunctional, and used as a free-to-grow toddler trike with detachable parts, or as a pram with reversible seat orientation
Portable and foldable, with the provisions to fold it into a compact size to bring out or take into the car, airplane, and tours
Can carry your baby's essentials with the front basket, rear compartment, and comes with a free small carrying bag
Safe riding with non-slip rubber grip handles, removable safety fence, and a 3-point adjustable safety belt designed to protect baby from sliding down
Comfortable and adjustable backrest adapts to the different stages of baby's spine growth, while the soft cushion padding protects the from discomfort while riding
Space-saving option for storage when not in use
What we didn't like
Expensive option compared to other kids tricycle models
The Verdict: Best for an overall pleasant ride The Fascol 4-in-1 Childrens Folding Tricycle for 6 Months to 5 Years has it all! While its price can be a bit steep, this is the best trike toddlers that has the complete package! It has all the best features of the other kids trikes and combined it in one product! If you have the budget, don't hesitate to get this model. The quality, features, convenience, and comfort that it will give to your child will outweigh its price.
Check Latest Price ➤
9. Homcom
 Baby Tricycle Children's Trike 4 In 1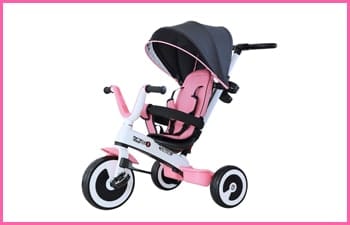 What we like
Multifunctional and flexible to use in 4 stages of your toddler starting from 18 months old
Strong and sturdy as it is made with an anti-corrosive and anti-peeling heavy-duty magnesium-aluminium alloy frame
The unique adjustable canopy of 600D oxford fabric blocks harmful UV rays, is well ventilated with mesh screen, and equipped with reflective stripes
Keeps baby safe with a 3-point safety harness, double breaks at the back wheels for ease of movement, and foam-surrounded guardrail that prevents sliding out or overly leaning forward
Designed for comfortable rides with high-back support, hollow wheels that prevent clamped feet, nonslip handle, textured pedals, mudguards, and foldable footrests
Removable parent push handle for full parent control, with height adjustable from 75- 100cm
Ample storage place with back storage bin, storage pocket and a bottle holder.
What we didn't like
A little heavy for carrying while travelling with its weight of 10kgs
Needs large space for storage without the option to fold
The Verdict: Best for safe adventures The Homcom 4-in-1 Kids Tricycle Stroller with Detachable Canopy is equipped with all the safety features you will need to have a blast with your toddler. Create wonderful adventures all-day with your kid with its weather-proof canopy with reflective stripes for nighttime visibility.
Check Latest Price ➤
Why you should get your child a toddler trike?
When a baby reaches the 12-month mark, their physical, mental, and emotional needs increase. According to Dr. Amanda Gummer, a research psychologist specialising in child development, balanced play is important for babies. It must be developed. while they are growing up because they learn best in all aspects through playing. Getting the best trike for your baby is important to get that balanced play they need. Here are reasons why you should have a trike bike for toddler:
Strengthens the entire body
Baby trikes help children to achieve full-body strength. Your toddler's muscles, especially on the legs, will be developed through the physical activity of pedalling. Also, just like any exercise, the act of pedalling will improve your baby's heart development and breathing.
Equips your toddler for preschool
As babies establish their balance from riding kids trikes, it makes it easier for them to walk and run outdoors. Pedaling also develops the posture they will need to build fine motor skills such as writing, cutting, and pasting. Also, having a sense of direction can aid your child in learning how to read books.
Increases awareness of their surroundings
Riding a trike bike for toddlers will greatly contribute to their spatial awareness and sense of direction and distance. It encourages babies to be observant of their environment by avoiding obstacles and changing directions.
Boosts confidence and self-esteem
As children ride kids trikes frequently, they gain confidence and independence. The increase in their skills will make them feel fulfilled and accomplished. This also makes them feel that they can do more things, which can develop their initiative in doing tasks as they grow older.
Channels energy and helps to have better sleep
Curious babies won't be able to sit still for long. A push along trike that they can use as they grow older will be useful for them to release their excess energy, making them sleep longer at night.
Supports the development of social skills
Your toddler will become more sociable as they use the kid's tricycle outside the comforts of your home. Aside from spending more time with you and other members of the family while riding, it creates an opportunity for outdoor play. This makes them have higher chances of meeting other children and interact with them.
Creates an opportunity to teach safety precautions
The baby trike will have harness and safety features in their product. As your baby's safety is your main priority, you can use this as a chance to teach your toddler with the safety procedures that they should do before, during, and after riding a kids tricycle.
Prepares your child to be active as they grow older
Training your baby to ride a toddler trike will make them ready to ride a bicycle shortly. This gives a higher chance of inclination in sports and exercise as they develop the love for outdoor play activities and the skills needed for it. And that's our comprehensive guide in choosing the best trikes for your babies. We hope that our suggested top 10 toddler trikes were helpful for you in choosing which one will you get for your child.
Last update on 2023-09-20 / Affiliate links / Images from Amazon Product Advertising API