Having a child is by far the most joyful moment in a person's life. All the languages combined cannot express the happiness and joy parenthood brings. Caring for your little one and protecting it from the world is what a parent wants to do at all time. However, such a thing has become a tedious task since both the parents are busy with their careers.
In today's modern age when both the parents are leading such busy and stressful lives what can be a better way to bond with your precious one than by keeping her in your arms out of harm's way. But this is impractical in today's fast world, so baby carriers are the best option for any parent. A baby carrier keeps the baby close to your heart making them feel secure, leaving both the hands-free to work while still holding the baby close to you.
3 Best Baby Carriers
Having a long-standing experience with children from newborns to toddlers my personal opinion is that a baby carrier makes a baby bond with her parents at the highest level. Your voice and the thrum of your heartbeat soothes the newborn and increases its sense of security that it misses from its mother's womb. In this article, I will try to help you make an informed decision when it comes to buying a baby carrier.
Baby Carrier Reviews
1. Funki Flamingo Best Baby Wrap Carrier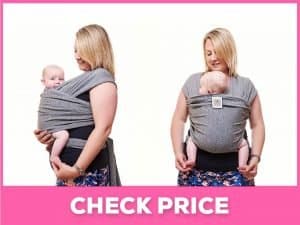 One of the best baby wrap carriers, it has no straps or a clip, so putting it on is quick and easy. It is machine washable that makes it durable and handy. The material is comfortable to wear for a longer duration. It is specifically designed to keep babies safe. What's more, is that it can hold babies weighing up to 35 lbs. The weight gets evenly divided so that you do not strain your back. Due to its adjustability, the baby's position can be changed and is perfect for breastfeeding increasing your bonding with your baby. Choosing a baby carrier that has complicated buckles and snaps might be complicated for you as a parent but safer for the baby as she will not be able to undo the snap while playing, making this a disadvantage with this particular baby wrap. There is no head support facility which might be a bit difficult for parents when their newborn cannot still hold up their head. Lack of a hood for the baby to protect it from the sun or to give the baby some shade while it is napping is also another minus point in this particular design. There is also no storage space in this baby wrap that is generally required. Overall, the rattle toy helps your baby in soaking up the details about the environment and transforms him into an imaginative child.
Check Latest Price ➤
2. Ecosusi Classic Front and Back Baby Carrier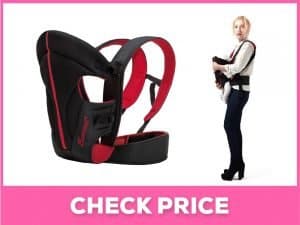 This baby carrier is soft, handy, lightweight and compact. It is well padded and easy to fold. It does not have a hard frame. It is made from 60% high-quality foam filling material. It has a removable hooded headrest and adjustable padded lumbar waist belt and shoulder straps. It can hold your baby from the age of 3-14 months. The weight carrying capacity is from 3.6 kg to 9.1 kg. This has a three carrier method i.e. inward facing, outward facing and back carrying. It can be machine washed Being of a simple style and soft and lacking a hard frame makes the baby more snug and comfortable. It provides privacy while nursing the baby. The adjustable lumbar waist belt and shoulder straps reduce back and shoulder strain. Being able to carry the baby inward or outward facing or on your back is a bonus. It is also easy on the pocket compared to other similar products. Additionally, it is designed keeping in mind relevant American and European safety standards. Being able to carry your baby in it only for a short time might be a disadvantage at times. It is a bit complicated to put on and take off for a first-time parent. Also nursing the baby in this is not a very practical option.
Check Latest Price ➤
3. BabyBjorn Carrier Original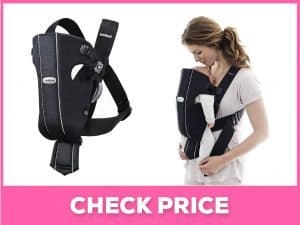 This is a small baby carrier easy to use, made of cotton. It is sturdy and has adjustable head support. You can carry your dear one in front facing in or out. It can be quickly put on or taken off. It has shoulder straps that can be adjusted to cross your back so that it sits just below your shoulders to give you the maximum of comfort. This product meets Oeko-Tex Standard 100, Class 1 standard applicable for baby products. If your baby has fallen asleep it is easy to unbuckle the carrier quickly and lay your baby down without disturbing its sleep. The baby sling being small it is handy and easy to carry as it takes up little space. The adjustable head support gives your little one a lot of ease. Since this design does not have waist straps to support it is painful for the shoulders and the back, as weight is not evenly distributed.
Check Latest Price ➤
4. Bebamour Brand Backpack 3 in 1 Functional Baby Carrier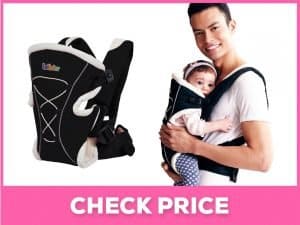 Made of soft mesh and cotton this baby carrier has an all-around head support. You can carry your baby in any position i.e. facing inwards, outwards or in a backpack position. It has a wide padded shoulder straps waistband and adjustable chest straps for even weight distribution. The butterfly-shaped buttons and unique buckle design make it easy to put on or off. The leg part is padded by breathable mesh and cotton thus making the baby more comfortable. It can hold your baby from the age of 3-24 months holding a weight of 3.5kg to 12kg. The material used in this carrier being breathable and soft makes it more comfortable for the baby. The padded straps along with the adjustments offered, make it easier and more comfortable for the parent. The all-around head support is a bonus that protects the head of your little one well. The contraption of the baby wrap is a little complicated that makes keeping and removing the baby tedious. Another problem faced with the carrier is adjustability.
Check Latest Price ➤
5. Bebamour Hipseat Baby Carrier Sling 5 in 1 Backpack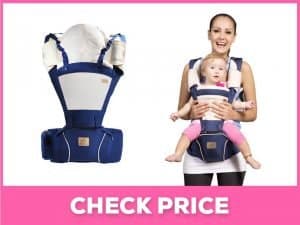 This baby carrier is made from 100% polyester and breathable cotton. It is ergonomically designed according to the baby's growth suiting a baby between the age group of 3-36 months weighing up to 33 lbs. You can use it to carry the baby in 5 different ways. It has adjustable straps, which are broad and well padded. The belt has small side pockets in which small items like mobile phones can be stored. The head cover is sewn with skin-friendly mesh and has vacuum holes to facilitate air circulation. The well-padded broad belts help in the distribution of weight making parent and child both comfortable. You can carry your baby for a longer duration. The design has an SBS automatic lock zipper with two side security buckle design to keep your child safer. The storage space in the form of side pockets is an added bonus. A disadvantage found in this design is that it cannot be used for a newborn and is suitable for babies that are 3 months or older.
Check Latest Price ➤
6. Ergobaby Baby Carrier Collection 360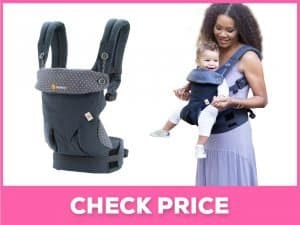 This baby carrier has a structured bucket seat and detachable hood. It had padded shoulder straps as well as extra wide adjustable Velcro waistband. It also boasts an extendable back panel that can be an additional support for the baby's head. It allows the baby to be carried in four different positions front-inward, hip and back carry and also front-outward. The bucket seat allows the baby to sit in an ergonomic frog-leg position with the spine gently curved and legs perfectly tucked in. Parents can carry their newborns easily. It also provides protection and privacy while sleeping and breastfeeding. The adjustable waist straps provide extra support for your lower back. This carrier is machine washable and made of 100% cotton. However, the only issue with the baby sling is that it is a little too pricey. One can get better slings at a lesser price.
Check Latest Price ➤
7. BabyBjorn Baby Carrier Miracle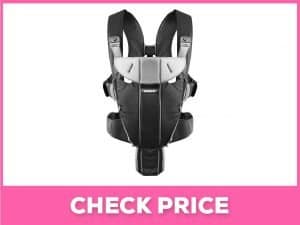 This baby carrier is designed with a newborn in mind and thus provides a sturdy and flexible head support. Made from the child-friendly material it is durable. It comes with an adjustable waist belt that helps to distribute the baby's weight on your hips. You can carry your young one in front facing in or facing out. It is provided with a windproof cover. The carrier has a cleverly designed back that offers comfort and stability to your lower back The waist belt and lumbar support do help in easing the pain from your shoulder and back and make carrying your baby easier for a longer period of time. It is machine washable. It is a bit bulky which acts as a disadvantage making it difficult to carry. The design is such that it is a bit uncomfortable for older babies.
Check Latest Price ➤
8. BabyBjorn Baby Carrier One Outdoors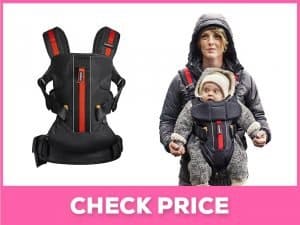 Made of a water and dirt-resistant material that is breathable and easy to clean, this carrier can cope with any weather. It has a sporty and smart look and has pockets and loops for carrying small items like bottles, mobiles or a small toy. It has a sturdy waist belt and padded adjustable shoulder straps. You can carry your little one in four different ways. It comes with a durable bag in which you can store and carry the baby carrier. The wide waist belt gives you excellent carrying ergonomics. Adults of different sizes can carry their babies because of the adjustable belts that can adjust to different sizes. It is the best baby carrier for the outdoors if you want to go trekking or on a picnic. It also has an internal seat that can be adjusted up higher for a newborn. It does not provide a hood, which is a drawback. Since, the carrier has been designed for outdoor use; a detachable hood would be nice. Moreover, it is expensive compared to other designs. Nursing your baby is also not possible in this baby carrier.
Check Latest Price ➤
9. Cuddlebug Baby Wrap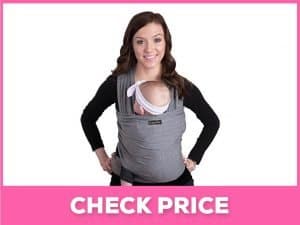 It is the best baby carrier available in nine colours. It has multipurpose i.e. 4 in 1 usage. It can be used as a baby sling, postpartum belt, nursing cover, baby sling wrap and baby carrier wrap. It is made of a stretchy fabric 6-yard long and 1.5 feet wide. The material is spandex and cotton. It can stretch around the body snugly providing much-needed comfort to the baby. This product is versatile as it can be used in different ways like a sling or wrap. It is comfortable while nursing your baby. The wrap does not have any irritating snaps, straps or fasteners. The baby's head is supported snugly against the mother giving it comfort and warmth. Not being bulky it is easy to carry. It continuously needs readjusting as it slouches and needs to be re-wrapped.
Check Latest Price ➤
10. NimNik Natural Baby Slings Carrier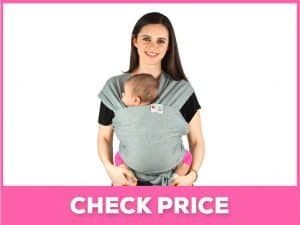 This baby wrap is made of soft spandex 5% and cotton 95% blend, gentle to touch and keeps your baby snug and close to your heart. It is perfect to hold your newborn up until the baby is 35 lbs. Its stretchy fabric makes it perfect for breastfeeding. It is a multi-purpose wrap and has a 4 in 1 design. You can carry your baby facing inward or outward, hip carry or like a rucksack sling. The wrap comes in a bag pulled with drawstrings of the same material as that of the wrap. It is durable and the material takes the shape of the body and does not sag after using it for a long period. It is easy to use and simple to tie. This is the best baby sling wrap perfect for preemies. It can be used as a postpartum belt or as a sling carrier too. Even though the sling can be adjusted, it is still tight for a baby that is healthy. In addition to this, the material used to make the carrier is not adequate for summers and the baby might feel hot inside.
Check Latest Price ➤
Types of Baby Carriers in the UK
Classic Baby Carriers:
A Classic Baby Carrier is worn in front of the body with the baby facing you. It is well padded for the comfort of your baby and supports its head, back and bottom all the while keeping his posture straight. The carrier is fastened with multiple plastic buckles and adjustable straps. It keeps the baby close to your heart and secure.
Ring Slings: A ring sling is a long piece of cloth made of some soft non-stretchable material like cotton or linen. The baby sling is attached from one shoulder to the opposite hip with the help of rings. The baby can be carried on the hip or facing towards the front. In a baby sling, it is easy to breastfeed the baby as well. It might be a bit uncomfortable to carry a baby in a ring sling as most of the weight is concentrated on one shoulder for a long stretch of time making the baby uncomfortable too.
Stretchy and Woven Wraps: Baby wraps are long pieces of fabrics of either a stretchy or woven material. Wraps are first wrapped around your own body and then the material is stretched over the baby when he or she is placed in. With wraps, the baby's weight is distributed evenly across your body thus there is no strain on your back and shoulders making the baby and the parent comfortable.

Soft Structured Baby Carriers:
A Mei Tai or soft structured baby carrier is a large rectangular piece with straps on every corner. The material is folded in such a way, so as to create a pouch for the baby to sit in while the bottom straps are wound around your waist. The baby remains well supported and comfortable in this type of carrier.

Backpack Baby Carriers:
Backpack baby carriers are baby carriers used to carry the baby on the back like a backpack or rucksack. In a backpack carrier, the baby can sit at some distance from your back on the frame seat provided. These baby carriers have additional straps that buckle around your waist and chest to make the baby more secure.
Pouch Baby Carriers:
Pouch baby carriers are made from fabrics of wide length that are sewn together to make a kind of loop to be worn from one shoulder to the opposite hip. The curved seam makes a small pouch for your baby to sit in. In this type of carrier, the baby is best carried on the hip but newborn babies can be carried in the front. Although being compact, the baby's weight not being equally distributed makes your back and neck pain.
Uses of Baby Carriers
Staying close to your baby is all that you want. So a baby carrier is the best answer to all your problems. In a baby carrier, the baby must sit in a position that its face is close to your heart and he or she can hear and feel your heartbeat at all times, making her feel loved and secure thereby making your bond with the baby even stronger. Even if you are talking to someone else he or she can hear your voice up close and knows that mom or dad is near it, adding to its security.
Using your baby carrier enables you to keep both your hands-free to do your daily chores. In earlier days you might have had to put your baby down in a cradle to complete your household tasks like cleaning. But now, with the best of designs of baby carriers available in the market the baby is cuddled next to you taking a nap while you can go about your chores outside or inside the house especially a newborn baby who is used to the warmth of the womb.
Strollers can be used when you are going shopping or for a walk but in this case, too baby carriers have an advantage. On walks, a stroller can be difficult to move if the path is uneven or busy. With the baby next to you, in a carrier, can be comfortable and even nap hearing the rhythmic thrum of your heart.
Features of a Baby Carrier
Your baby's comfort is your topmost priority at all times. In the market, a wide variety of baby carriers is available offering a number of features. But whatever makes your bundle of joy the safest and comfortable is the best baby carriers choice for you. A comfortable carrier that caters to both the parent and your loved one should be the safest option.
Fabric: The baby carrier should be made of a soft comfortable fabric that is durable, easily washable and sturdy. So buying one that is not synthetic but natural like cotton is a good option. Some made of organic fibres are also available in the market. A material that makes your baby breathe easily and is cool and fire resistant should be chosen.
Head Support: A baby sling that offers a head support would be a better choice. Newborn babies cannot hold up their heads as they lack head and neck control. So if your baby still cannot hold up her head, then looking up a carrier with head support is the answer.
Body Support: Along with head support, the baby's body should also be supported well. Thus a carrier filled with a lot of padding is definitely more comfortable for your baby.
Padded Straps: Along with the baby's comfort the parent should also be equally comfortable. How can the baby be comfortable if the person carrying it is not? So the best baby carrier is one that comes with padded straps should be chosen and of course the straps should be sturdy too.
Sternum Strap: The shoulder straps are connected by a sternum strap so that they do not slip off your shoulders. This strap is adjustable and helps to reduce the weight on the shoulders making the parent comfortable and thus the baby too.
Waist Belt: Buying a baby wrap with a waist strap that distributes the baby's weight across your lumbar region i.e. shoulder, back, hips, torso and pelvis are necessary. Interlocking padded waist belt with adjustments are available.
Fasteners: The clasps and buckles of the carrier that you buy should be adjustable so that you can use it for a longer period of time, i.e. even after your baby grows. They should be difficult to undo so that the child cannot open them when she grows older and is playing or fiddling with the clasp.
Attachable Hood: Choosing a carrier with an attachable hood is a better buy. The hood can be kept in a pocket in the carrier when not in use and attached when the child has to be kept out of the sun or is about to sleep.
Vent: Buying a baby carrier with side vents is a good idea. If the baby is carried for a long time then she might become uncomfortable due to the heat. With side vents, the air can circulate making it more agreeable for the baby.
Easy to Clean: It makes work easier if the carrier can be washed in the washing machine. But also if it can only be hand washed it is comparatively better than it being dry-cleaned.
Weight guidelines: Before buying any baby carrier do check out weight guidelines offered by the manufacturer.
Comfort and ease of use: The baby's comfort is what a parent would want at all times when looking for the best baby carriers. So if the parent is squirming and wincing at all times wearing the carrier, your little one will surely be in a lot of discomforts. Do buy a carrier that is not left unused in a cupboard but one that is suitable to both you and your child.
Buying a baby carrier for your bundle of joy is a matter of utmost importance. Quite a number of different varieties are available in the markets offering different features. First and foremost, you should always do proper research on the characteristics offered and go through the reviews before buying any baby carrier. It is a long-term investment for your baby until it learns to toddle and not just for the first child but the others that follow. So the comfort level should be your supreme priority along with the type of usage. Thinking about your budget is also a must as they come in a wide range of prices. Give the gift of your life a comfortable carrier and witness the innocent smile on its face.
Last update on 2023-11-30 / Affiliate links / Images from Amazon Product Advertising API