With the recommendation from the World Health Organization of six months of exclusive breastfeeding followed by an extension for a minimum of two years, most mothers are eager to give their children as much milk as they can while they're young.
Breastfeeding one's baby for the first several months can be a very fulfilling experience, but many women cannot do so. Some mothers need to return to work and others might suffer from pain while breastfeeding.
These women might choose to use a breast pump instead of breastfeeding.
The Bellababy Breast Pump is specifically designed for mothers who need to express their milk while they're away from their baby – these mothers can ensure that their child get all the breast milk he or she needs, quickly.
Unboxing the Bellababy Pump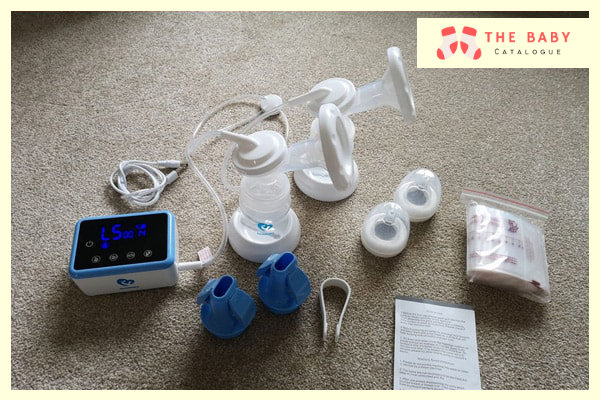 Key Features Of Bellababy Electric Breast Pump
With a plethora of breast pumps in the market, it is often overwhelming when it comes to making the right choice. Also, breast pumps have come a long way since their inception, with manufacturers revising their products to be more powerful and efficient. This article will give you a rundown of the features that make Bellababy breast pump, a great choice for working mothers.
The Bellababy has several key features that distinguish it from other breast pumps. It is lightweight, it's far more quiet and gentle than many of its competitors, making it ideal for mothers who need to use the pump regularly without being disturbed by its sound.
The Bellababy also allows users to control the suction levels (up to eight different settings available) which makes it ideal for new mothers who have trouble expressing.
Milk storage bag adapters
If you are a mother who regularly pumps, it will often be challenging to make room for all of your supplies in the freezer. While it is costly to pump and store milk in bottles, flash-freezing directly into bags isn't advised because bacteria can get inside if there's any gap around where you seal the bag shut.
Bellababy has solved this with their Milk Storage Bag Adapters, offering a method that is a cleaner, safer option for parents who want to pump and save their breastmilk.
Closed, double breast pump system
This is a double breast pump that pumps simultaneously from both sides. It is a closed system that offers 4 modes and 9 levels of suction to choose from. You can choose based on your comfort and milk flow. It also helps massage and stimulates the breasts prior to pumping to make way for a comfortable and pain-free pumping experience.
High definition screen
The Bellababy breast pump is equipped with a high-definition display the shows mode you are using, the level of suction opted for, and how much time you have allotted. This information is displayed onscreen so you can see it clearly before pumping.
Touch panel
The touch panel allows you to stay clear of any buttons and can be operated by simple finger clicks.
Ease of carrying
The pump is lightweight and portable with an inbuilt 2200 mAh Li-ion battery to allow you to carry it anytime and anywhere in your handbag.
Hospital-grade Breast Pump
This is a hospital-grade pump that offers superior output and helps maintain your breastmilk supply.
Ease of charging
You can be carefree and head out without worrying about finding a power outlet. It can be easily charged with a power bank. The Li-ion battery makes it possible.
Natural pumping
The pump perfectly imitates the natural suckling of a baby and allows for a pain-free pumping experience. The petal-style cushion is made with soft silicone and is comfortable and pain-free.
Low noise of operation
You need not worry about the noise while pumping at work or when your baby is asleep. The working noise is very low.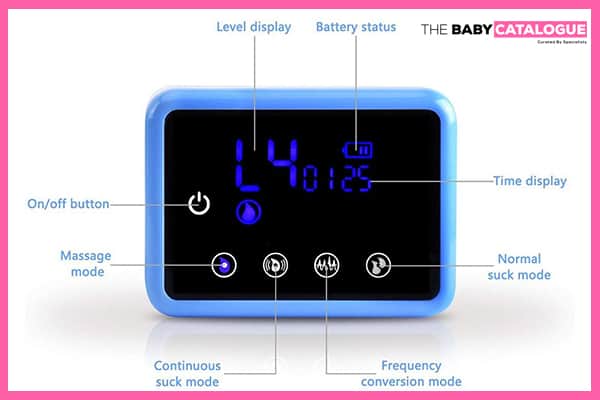 What these features mean to you: ❤️
Increased hygiene and easy storage for the milk
Easy adaptability to all breast sizes and preferences of suction
Ease of use and access with superior features such as a high definition screen and touch panel
Portability to carry to and fro the workplace each day. You can even carry it while travelling
Easy to maintain breastmilk supply even if you are facing latching issues
Noiseless pumping at work and everywhere else
Pain-free and natural pumping experience
It is BPA free and FDA approved
What users like the most about this pump:
The suction is excellent and can be set for any breast size
The double pumping ability makes it a lot easier and quicker
It is easy to assemble and use
The different programs make it quite comfortable
It gives a good output and maintains breastmilk supply
The looks are very premium and the touch screen interface is very easy to use
It is very handy as it doesn't mandate a power outlet for charging
The performance is as good as some very expensive pumps available but this one is quite pocket-friendly
The rubber covers on the suction cups are very gentle
It is as good as the industrial-grade pumps available in the hospitals
No milk is leaked in pipes or lost
The on-screen timer is an amazing value-add
Very easy to change the strength of pumping and switch between letdowns
The battery life is very good
Nearly 3 hours of pumping is possible between consecutive charges
The pump can also be used while charging
It remembers the previous settings
What users say could have been better?
There should be an option to buy spare parts such as suction cups and bottles
Other bottles don't fit in
The suction should draw in the nipple a little more gently
About Bellababy Brand:
Bellababy is a cost-friendly baby care brand that strives to bring high quality products at affordable prices. It strives to make sure that no one is excluded from utilizing the products because of their cost.
Bellababy breast pumps are some of the most top-rated breast pumps that match the performance of the very expensive ones at very low prices. The brand takes pride in offering the best products to families and meeting the breastfeeding needs of little infants. It has done a lot of research in coming up with the perfect product that overcomes all the drawbacks of low-cost pumps and offers a perfect product for women of all sizes. It uses the best quality materials to come up with durable and user-friendly products.
Final Words:
The Bellababy Portable Breastfeeding Pumps are the best that you can get in this price band and they easily meet the performance of hospital grade industrial breast pumps. They are FDA approved and are made of the best quality materials. Most users are completely satisfied with all aspects such as user-friendliness, ease of assembly and use. They are one of the best options to continue giving breastmilk to your baby for longer periods of time. The storage bag adapters to ensure that the milk can be easily stored for future access. The premium looks and quality and the strength and durability make it a must-have product if you are looking to buy a breast pump.
Bestseller No. 1
Breast Pump,Portable Dual Breastfeeding Pump with 4 Modes 9 Levels, BPA Free, Memory Function, Rechargeable Breast Milk Pump with 10Pcs Breastmilk Bags
❤BPA FREE & EASY TO ASSEMBLE : Made of food grade silicone and no contain harmful substances.BPA and Phthalates Free. Our double breast pumps' each component can be flexibly assembled and disassembled. Except for the electrical parts, all other removable parts are washed or sterilised safe.
❤ 4 Modes 9 Levels - Closed System,4 modes and 9 levels of suction for choice,massage and stimulate breasts before pumping,comfortable and pain free. You can choose the mode and level you want.
❤ Build-in Chargeable Battery - Convenient at home and out, including a USB charger and 2200mAh Li-ion battery built-in with large capacity (INPUT: 5V/1A). You can easily charge the breast pump through power bank, laptop, wall charger or car charger.
❤ PAIN-FREE PUMPING: Come with 2 soft silicone massage cushion will protect your soft and delicate breasts efficiently. And provide a secure seal and snug to prevent leaking milk.
❤ Warranty Policy - This product has 12 months warranty. Please feel free to conact us if you have any questions, we will do our best to help you within 24 hours.
Bestseller No. 2
Bellababy MiniO Breast Pump,Electric Double Breast Pump Rechargeable,Come with 24mm Detachable Flanges,10 Storage Bags,2 Storage Bag Adapters,2 Bottle Neck Adapters (24MM)
NEW DETACHABLE FLANGES: Come with 24mm new detachable flanges,easier to clean and more compatible with many breast feeding bras.
NEW CUTE BOTTLE: Come with 2 pieces of oval bottles,stand more stable on talbe.Made of food grade PP and SiliconeBPA and phthalate free.
TINY& PRACTICAL: The machine is small and light,you can even put it into your troubser pocket(OPERATION PANEL TORWARDS OUTSIDE),but it can provide up to 380mmHg suction.You can adjust it by clicking the icon + and -
WIRELSS & FREE: Buillt-in 1200mAh Li-ion battery, you can pump with it in the car,on work or anywhere you'd like. It takes 40mins to be fully recharged and can last 60~100 minutes based on the setting.
QUALITY & AFFORDABLE: Bellababy is dedicated to providing moms quality,safe and affordable breast pumps to help feeding their babies.
Bestseller No. 3
Last update on 2021-12-01 / Affiliate links / Images from Amazon Product Advertising API