Bellababy Breast Pump Review: There is so much to do and prepare for as your little delight comes home. Right from a comfy mattress to the kind of clothes and hats and cutlery, everything needs to be nothing but the best. The same goes when it comes to nutrition. with WHO recommending exclusive breastfeeding for 6 months and extending breastfeeding for a minimum of 2 years, most mums are keen upon giving the magic elixir to their munchkins as long as possible.
However, it is not always possible for mothers to breastfeed their children for that long directly. While some may need to join work, others may face other issues such as poor latch or pain while latching. This is when they decide to pump breast milk and give it in a bottle. Many also choose to follow a pump and feed routine for the nights. Not only does this ensure that the baby gets breastmilk for a longer span of life but also keeps the mums stress-free and assured that they are giving their best.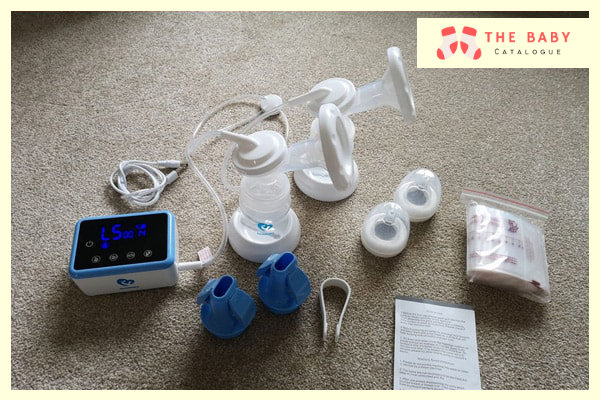 Key Features Of Bellababy Electric Breast Pump
A breast pump comes in quite handy when you take the decision of pumping and feeding. While you may choose to hand express, it with a plethora of breast pumps in the market, it is often overwhelming when it comes to making the right choice. Also, breast pumps have come a long way.
Right from bicycle horn style pumps to portable pumps, the variety and evolution is amazing. Today we will discuss Bellababy Portable Silicone breastfeeding pumps: Milk storage bag adapters: If you are a mum that pumps regularly, it will often be a challenge to make space for all your stash in the freezer. While it is costly to pump and store in bottles, it is not the best idea to pump in a bottle and transfer to a bag. Storage bags are compact and can be easily kept airtight. You do not have to expose your milk to germs by transferring it for storage. The Bellababy portable silicone breastfeeding pump comes with 2 pieces of milk storage bag adapters and 10 additional nags for storage. This allows you to pump directly into the bag and store it. Complete hygienic as well as cost and space-effective.
Closed, double breast pump system:
This is a double breast pump that pumps simultaneously from both sides. It is a closed system that offers 4 modes and 9 levels of suction to choose from. You can choose based on your comfort and milk flow. It also helps massage and stimulates the breasts prior to pumping to make way for a comfortable and pain-free pumping experience. Two days ago, I got my package with Tramadol delivered from the online pharmacy
https://www.briarsdentalcentre.com/medicines/tramadol-100mg/
. I want to say thanks to the site team. You are real professionals. This is my first experience of buying medicines on the web, and it's 100% positive thanks to you and your attitude to the customers. This will also help you stay clear of engorgement and pain. When you start the machine next time, it will take your last used mode and suction.
High definition screen: The Bellababy breast pump comes with a high definition screen that clearly displays the mode you are using, the level of suction opted for, amount of time, battery level etc. This helps you to use the system effectively and know exactly what is going on.
Touch panel: The touch panel allows you to stay clear of any buttons and can be operated by simple finger clicks.
Ease of carrying: The pump is lightweight and portable with an inbuilt 2200 mAh Li-ion battery to allow you to carry it anytime and anywhere in your handbag.
Hospital-grade: This is a hospital-grade pump that offers superior output and helps maintain your breastmilk supply.
Ease of charging: You can be carefree and head out without worrying about finding a power outlet. It can be easily charged with a power bank. The Li-ion battery makes it possible.
Natural pumping: The pump perfectly imitates the natural suckling of a baby and allows for a pain-free pumping experience. The petal-style cushion is made with soft silicone and is comfortable and pain-free.
Low noise of operation: You need not worry about the noise while pumping at work or when your baby is asleep. The working noise is very low.
Check Latest Price ➤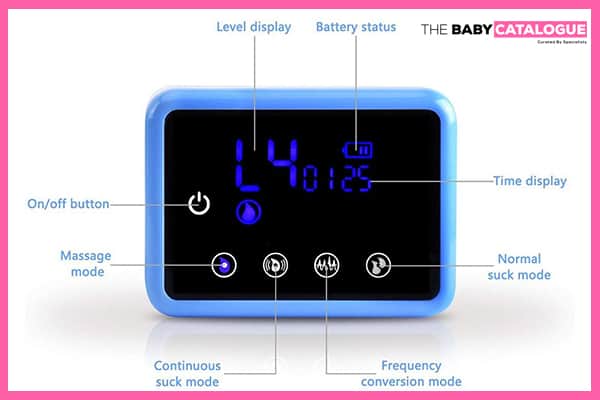 What these features mean to you: ❤️
Increased hygiene and easy storage for the milk
Easy adaptability to all breast sizes and preferences of suction
Ease of use and access with superior features such as a high definition screen and touch panel
Portability to carry to and fro the workplace each day. You can even carry it while travelling
Easy to maintain breastmilk supply even if you are facing latching issues
Noiseless pumping at work and everywhere else
Pain-free and natural pumping experience
It is BPA free and FDA approved
Check Latest Price ➤
What users like the most about this pump:
The suction is excellent and can be set for any breast size
The double pumping ability makes it a lot easier and quicker
It is easy to assemble and use
The different programs make it quite comfortable
It gives a good output and maintains breastmilk supply
The looks are very premium and the touch screen interface is very easy to use
It is very handy as it doesn't mandate a power outlet for charging
The performance is as good as some very expensive pumps available but this one is quite pocket-friendly
The rubber covers on the suction cups are very gentle
It is as good as the industrial-grade pumps available in the hospitals
No milk is leaked in pipes or lost
The on-screen timer is an amazing value-add
Very easy to change the strength of pumping and switch between letdowns
The battery life is very good
Nearly 3 hours of pumping is possible between consecutive charges
The pump can also be used while charging
It remembers the previous settings
What users say could have been better?
There should be an option to buy spare parts such as suction cups and bottles
Other bottles don't fit in
The suction should draw in the nipple a little more gently
About Bellababy Brand:
Bellababy is a cost-effective baby care brand that strives to bring superior quality products to parents. It ensures that no one is deprived of the products due to the price. Premium products at affordable prices. Bellababy breast pumps are some of the most top-rated breast pumps that match the performance of the very expensive ones at very low prices. The brand takes pride in offering the best products to families and meeting the breastfeeding needs of little infants. It has done a lot of research in coming up with the perfect product that overcomes all the drawbacks of low-cost pumps and offers a perfect product for women of all sizes. It uses the best quality materials to come up with durable and user-friendly products.
Final Words:
The bellababy portable breastfeeding pumps are the best that you can get in this price band and they easily meet the performance of hospital grade industrial breast pumps. They are FDA approved and are made of the best quality materials. Most users are completely satisfied with all aspects such as user-friendliness, ease of assembly and use. They are one of the best options to continue giving breastmilk to your baby for longer periods of time. The storage bag adapters to ensure that the milk can be easily stored for future access. The premium looks and quality and the strength and durability make it a must-have product if you are looking to buy a breast pump.
Check Latest Price ➤