Overview – Lansinoh 2-in-1 Pump
The Lansinoh 2 in 1 Double Electric Breast Pump is an electric single and double breast milk pump for mothers of newborn babies. It can be powered by mains or via a battery pack adapter. This product has a number of excellent features. To start, it boasts relatively low noise levels, although it can be a bit noisy on certain surfaces. It boasts adjustable settings and features two different breast cup sizes to suit most mothers.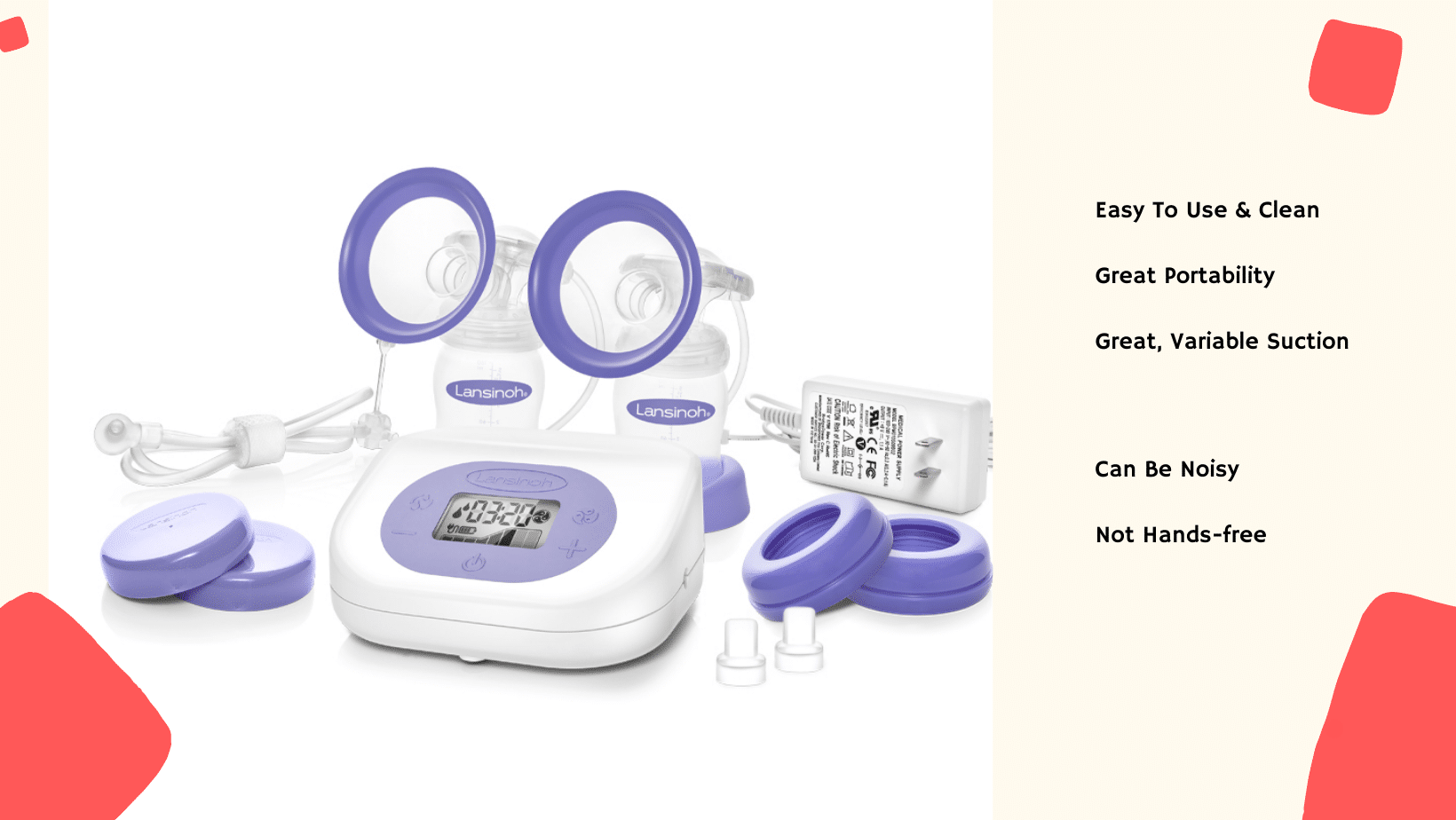 Comfort First
The Lansinoh 2 in 1 Double Electric Breast Pump is known for being particularly comfortable. This pump features breast cushions in multiple sizes that are designed to fit most women. There are a number of different suction speed options as well, which one will not find in many high-end breast pumps. The speed options can be easily changed so that users can find a speed that is the most comfortable and helps with sensitivity.
Since the usability of this breast pump is extremely easy to learn and there are no settings to mess around with, it's perfect for mothers that are already low on energy due in those early days of baby arriving home from the hospital.
"This product was amazing! It is a double pump so you can pump from both breasts at the same time and it was easy to assemble. The two different speeds made it a realistic simulation of baby feeding, so I found it was very effective." – Fiona Kershaw
Simulates Natural Breastfeeding
This breast pump is an excellent choice for mothers that want to simulate natural breastfeeding. It offers two different breast cup sizes and suction speeds so that it feels just like a baby would when they were feeding from the mother. Pumping at the same time as your baby will help with supply issues, which can frustrate baby and cause unnecessary discomfort when feeding.
Also, this product is the best choice for mothers who may need to pump after surgery. The easy assembly and use will help with establishing production of milk in a matter of days so that your supply can follow your baby into their new home and routine.
Ease of Use
During testing, we found the pump to be super-quick and easy to assemble which was a nice change to some of the breast pumps we have recently reviewed, but it didn't stop there.
This double pump is seriously easy to use, and its a great alternative to manual breast pumps and just in-case you fancy reading through the entire instruction manual, then you will find a well thought-out document that has been broken down in a way that actually makes sense, which is always nice.
Lansinoh seem to have covered all the important bases then, but there are a couple of areas that are lacking, in particular the noise. The pump may not be entirely practical for mothers that live in small houses or flats, simply because the noise generated is likely to disturb even the most stubborn sleeping fathers, let alone new born babies!
However, this is a small niggle in an otherwise great choice for those needing a mid-range double breast pump, that's comfortable, doesn't leak and really delivers on what it promises.
Best Double Pump for the Money?
There is no question, that this is a solid Double Breast Pump at a fantastic price. Prices change from store to store, but on average are priced at £164.99 – £169.99 which puts it firmly below pumps from Tommee Tippee & Medela respectively.
Verdict: I think you'll be hard-pushed to find a better pump at a better price.
"I am feeding my baby both Breast milk and formula. Pumping is an important part of my day and every drop of breast milk counts. This pump wins hands down. The Medela leaks. This has no way of leaking. This has a timer, the Medela does not. This Lansinoh pump guarantees no milk will enter the tubing and therefore no washing is required, it's true! I have had to wash the tubing of my Medela pump numerous times. Both have good suction and are comfortable. Both light up. Both are dishwasher-friendly. Both rubbish using batteries. This is cheaper." — Susan
Pros of the Lansinoh 2 in 1 Double Electric Breast Pump
It's extremely easy to use.
It's an excellent starter alternative to manual breast pumps.
It's very simple and easy to clean thoroughly.
The speed of this product is excellent, and most mothers will be able to empty both breasts (or around 180-200ml) in under 20 minutes.
The multiple speeds make it easier to mimic baby feeding.
Pumping isn't painful or uncomfortable with this pump.
The instruction booklet included with this pump is very thorough and breaks down everything from initial setup to use to proper cleaning.
Users have compared this pump to hospital pumps, which are very high quality.
This pump does not leak, out-performing even the highest-quality breast pumps on the market.
It can be used as a single or double pump.
This product is ideal for mothers that need to express milk regularly, as well as mothers who pump semi-regularly and use formula.
This product offers a closed pump system, meaning that your breast milk will not leak into the tubing and you will experience the fastest but most comfortable suction possible.
The comfort and portability factor is excellent for mothers on the go.
Buyers will receive a wide neck bottle that can be used with a wide range of pumps and lids.
It is relatively easy to figure out and setup is quite intuitive, though it may take up to half an hour to get it started.
The entire kit includes an adapter, though batteries are not included.
The bottles stay up, even when all of the possible accessories are plugged into this pump. For those that are particularly nervous, this product also comes with additional bottle stands.
Multiple suction speeds are available, which can be excellent for women with breast sensitivity. The amount of suction is sorted into eight different strengths as well.
Cons of the Lansinoh 2 in 1 Double Electric Breast Pump
It is not hands-free. When using this product, you will need to sit in one place.
The volume of the pump can be quite loud and annoying on certain surfaces, especially granite counters. This can be a big issue if you are trying to pump while your baby is asleep, or if you need to pump in the middle of the night.
Reviewers have noted that it is a bit difficult to double pump without the assistance of a breastfeeding bra or bra attachment. However, some users have noted that the pump fits well with certain breastfeeding bras.
Some users have complained that the suction power of this breast pump begins to wain after regular use over several months.
The included storage bottles are a bit small and might not be ideal for all mothers.
While the battery adapter is convenient for mothers on the go, this machine sucks up power quite quickly. Some reviewers of this product have noted that after half an hour of pumping, the batteries were dead.
There is no strap or mechanism that makes it possible to wear the pump, though it does come with a carrying bag.
The Lansinoh Double Electric Breast Pump has a solid reputation for its power and can certainly empty both breasts with ease, though the noise of this product may be a bit too loud for some mothers. Compared to other breast pumps on the market, this one performs extremely well and comes at an affordable price.
Bestseller No. 1
Bestseller No. 2
Bestseller No. 3
In what ways has this product made your life easier?
It was easy to use. You could clean all the parts in boiling water. The booklet was very helpful, and you could use it as a single pump or double. There were two different size nipple plates which is good because sometimes they are too small and then you need to order extra large ones separately.
Should this product be our winner?
The bottles remain upright even when plugged in and come with bottle stands which allows them to stand up on their own. The parts are easy to take apart, so they're more hygienic and the pattern of feeding (two different speeds) simulates the natural pattern of a woman breastfeeding.
What, if any, changes would you like to see?
One issue I have with the pump is that there are no straps to keep it in place when pumping. Due to this, I find it difficult to be hands-free while simultaneously holding both pumps with two hands.
Is a double breast pump worth it?
There's no doubt that having a double breast pump is very convenient. Instead of getting out the other breast pump, you can just use this one if your baby isn't hooked up to one already.
There's also another reason why I recommend 2 pumps over 1: if for whatever reason you need to return it (you decide it doesn't work for you, or your baby gets a bad latch and won't let you use it) it's much easier to return a double pump than a single one because they're more expensive.
It's also very handy if your child is in the NICU for some reason and the nurses are using 1-sided electric pumps and you have to bottle-feed the other side. You just can plug this pump into your baby's room and keep pumping until you finish both sides.
Then there are times when I've used it on one breast, went to do something else for a few minutes and came back to see that my son has contorted himself so far in his sleep that he doesn't want to latch on anymore. In these cases, it's nice just to be able to pick up the other side and pump for a few minutes without having to wake him up or wait until he decides he wants to latch again.
You will need two sets of bottles and nipples (I like Playtex Nursers.) You have 2 options for how to use it – you can either have both pumps hooked up to your baby at the same time so you don't have to take him off one side to switch (this is good for babies who are on a varied nursing schedule) or you can feed them one at a time which allows maximum milk storage.
Conclusion
There are many high-quality breast pumps out there, like the popular Medela Swing Maxi. However, many of these pumps are extremely expensive. The Lansinoh 2 in 1 Double Electric Breast Pump is an excellent inexpensive alternative to top-quality breast pumps on the market.
The Lansinoh Double Electric Breast Pump has a solid reputation for its power to empty both breasts with ease, though the noise of this product may be a bit too loud for some mothers. Compared to other breast pumps on the market, this one performs extremely well and comes at an affordable price.
"Superior to any other breast pump (& I have used many!). The design is comfortable & leak-free. The ability to replicate the different stages of sucking makes for better milk production. And it is relatively quiet & easy to clean… Also, I suffer from engorgement & have had mastitis & this has been an amazing help." — Jemma
While it does have some downfalls (such as not being hands-free), this breast pump is durable, easy to clean, easy to use, and quite convenient. The Lansinoh 2 in 1 Double Electric Breast Pump has excellent dual pump functions, as well as ultra-soft pumps with excellent bottle sizes. Despite its occasional noisiness on certain surfaces and its lack of hands-free capabilities, this pump is still an excellent product with the welcomed addition of suction speed settings. This product would be an excellent choice for mothers who have not experienced or used breast pumps before, as well as those who have nursed multiple children.
Last update on 2023-09-20 / Affiliate links / Images from Amazon Product Advertising API
Lansinoh 2 in 1 Double Electric Breast Pump Review
The Good
Extremely easy to use.
Very simple and easy to clean thoroughly.
Multiple speeds make it easier to mimic baby feeding
Comfort and portability is excellent for mothers on the go
The Bad
Suction power of this breast pump begins to wain after regular use over several months
The included storage bottles are a bit small and might not be ideal for all mothers
The volume of the pump can be quite loud and annoying on certain surfaces