Best large baby playmat: All parents want to give the best for their baby. As a mother or father, you might be thinking about what you can do even in this early stage to help your baby to grow better and reach his developmental milestones. Support your baby's overall development by having a prepared environment for him to play and explore. This will help him learn things about himself, other people, and his surroundings. One way to do this is by investing in a large baby play mat.
Top 3  – Best Large Baby Play Mats
What is a large baby play mat?
A large baby playmat is a padded mat made especially for babies to play on while lying on the floor. Sometimes, it comes with added characteristics that promote your little one's development. These are also known as play gyms. It can include lights, music, textured designs, hanging toys, and other items that will keep babies busy and safe at the same time. With plenty of available large baby play mats in the market, it might be confusing and challenging to choose which one is the will help bring out the best for your baby. But don't worry because I have listed down the best large baby playmats for you!
Large Baby Play Mats Reviews
1. Tiny Love Super Large Baby Play Mat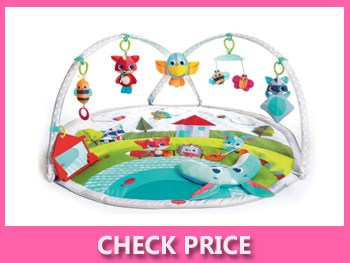 Overview:
This not-so-tiny baby playmat has animal designs with enough space for you and your baby to play together comfortably while encouraging his senses to be stimulated.
What we love in this Playmat ❤️
Has a lot of space for movement activities, supporting the development of gross and fine motor skills
Big size of 150 x 100 cm promotes bonding and interaction with your baby
Colourful animal prints and textured material stimulates the visual and tactile senses
Attached toys in the baby playmat support tummy playtime and crawling, fit for older babies
Quick and easy assembly of the playmat will keep it handy
Built-in carry handle makes it easy to fold and portable for travelling
Easy to clean and hassle-free design will make it perfect for regular use
What we don't love  💔
Not much features and toys for newborns and younger babies
The Verdict: Best for Little Movers and Explorers
The Tiny Love Super Mat is suitable for both the independent and creative play of your little explorer. It keeps your baby safe and secure from scratches, bumps, falls, and other injuries while playing alone. During mommy and baby time, both you and your baby will have fun with the attached toys and features that can help aid the development of your baby.  
Check Latest Price ➤
2. Banmax Large Baby Playmat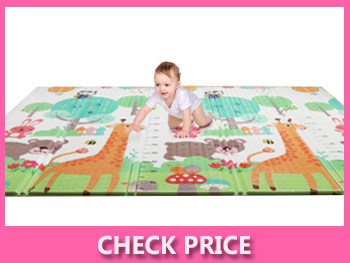 Overview:
This reversible and waterproof baby playmat has a thick and non-slip foam for your baby's adventures.
What we love in this Playmat ❤️
Wide baby playmat with size 177 x 197 cm is perfect for exploring babies and toddlers
Reversible prints and designs of car track and height scale with animals are attractive and visually appealing
Soft non-slip foam which is thicker than usual playmats with 1.5 cm is perfect for outdoor use
Easy to clean and foldable playmat can be used during picnics and messy sensory playtime
What we don't love  💔
Possible to use for travelling but it will be bulky
Does not come with sensorial toys that will entertain infants and young babies
The Verdict: Best Multipurpose Playmat
The Banmax Baby Playmat is perfect for older babies and toddlers who love playing outside the comfort of their homes. The thick waterproof foam makes it suitable for whenever your family will have a camping or picnic.
Check Latest Price ➤
3. Fisher-Price Kick & Play Piano Gym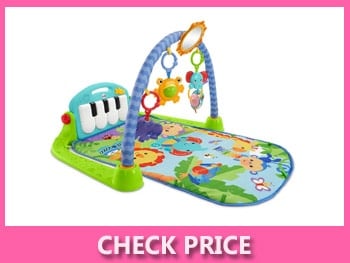 Overview:
Your baby will experience a wonderful musical playtime with this play gym, while the colourful animals and toys stimulate his senses.
What we love in this Playmat ❤️
The special piano helps develop gross motor skills and at the same time enhance cognitive skills through cause and effect
Portable, lightweight, and easy to clean with 5 rattle and teething toys, and a detachable piano
Designed to grow with your baby until toddlerhood with its 4 ways of playing: lay and play, tummy time, sit and play, and take-along
Keeps baby amused with a choice of short or long play mode with up to 15 minutes of continuous music
Can be used for quiet play with the volume control
Child-friendly mirror encourages your baby's self-awareness
Has a great price point with all the features it includes
What we don't love  💔
The playmat size of 68.5 x 7.5 cm is smaller compared to other baby play gyms in general
Tummy time can be tricky as your baby grows due to the small space to move around
The Verdict: Best Value for Money
The Fisher-Price Kick & Play Piano Gym is perfect to keep your baby entertained while supporting both mental and physical development. It also comes at a reasonable price, given all the activities and toys that your babies can enjoy as they grow older.
Check Latest Price ➤
4. Bigtree Crawling Large Baby Playmat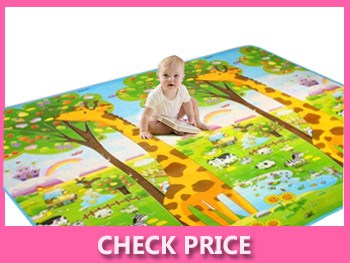 Overview:
This is one of the best large baby playmats that can cover a broad area of the floor or ground, which is suitable for crawling and standing babies.
What we love in this Playmat ❤️
Easy to maintain, assemble, and clean; just needs wiping and drying
Thick material prevents scratches and bumps for babies who are starting to move around
Encourages the development of gross motor skills with a huge play area of 200 x 180 cm, bigger than most of the available baby playmats
Designs and prints can be used to teach kids letters, animals, and colours
Creates an opportunity for interactive, imaginative, and open-ended play
Child-friendly mirror encourages your baby's self-awareness
Affordable and useful for the entire family
What we don't love  💔
Does not have features or activities to keep infants and younger babies interested
Tends to be bulky if folded and carried along for travelling
The Verdict: Best for the whole family
The Bigtree crawling large baby play mat is great for older babies and kids who are starting to practice their independence through movement. The spacious and safe play area it provides is perfect for playing with other siblings and family members.  
Check Latest Price ➤
5. Lamaze Freddie The Firefly Activity Baby Playmat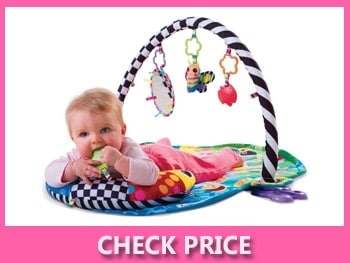 Overview:
This baby play gym has attractive and colourful toys in an arch, which appeal to your growing baby's senses.
What we love in this Playmat ❤️
Can be used as your baby grows older because it offers 3 positions for playing: lay and play, tummy time play, and sit and play
Discovery mirror made of break-proof material will interest your baby while exploring
Detachable tummy time pillow can strengthen your baby's developing muscles
Toys have varied textures, colours, and patterns that appeal to your baby's senses from newborn up
Combines most of the features of other baby playmats
Price is average for all the included toys and characteristics
What we don't love  💔
Baby playmat size of 77.98 x 77.98 cm might not be enough as your baby gets older and explores around the area
The Verdict: Best for Little Movers and Explorers
The Lamaze Freddie The Firefly Activity Baby Playmat is the one for your baby's holistic physical and mental development. It stimulates the senses and supports your baby's physical and cognitive development.  
Check Latest Price ➤
6. Bright Starts 5-in-1 Mat & Activity Gym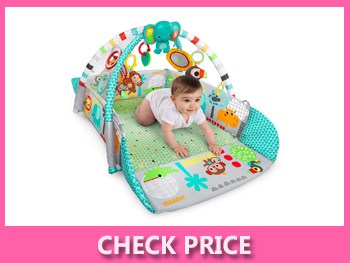 Overview:
This 5-in-1 baby playmat features a play gym that is convertible to a ball pit for older babies
What we love in this Playmat ❤️
Large playmat with the size of 53.30 x 113 cm is perfect for mommy and baby playtime
Includes a tummy time pillow to promotes muscle strength
Various teethers and toys provide oral and tactile stimulation
Foldable sides convert it to a ball pit that can be used until toddlerhood
Eye-catching prints, flashing lights, and baby-friendly mirror creates visual curiosity
Electric elephant toy keeps baby entertained with 20 minutes of fun melodies
What we don't love  💔
Bulky and difficult to bring around whenever travelling
A bit expensive compared to other baby playmats and play gyms
Several parts and toys might be challenging to clean
The Verdict: Best in Variety of Activities
The Bright Starts 5-in-1 Your Way Ball Play, Mat & Activity Gym is the best companion for your baby as he grows. It stimulates all senses with its textured toys, musical elephant, plastic balls, colourful patterns, and tummy time pillow. Your baby will enjoy using it as he grows up with the ball pit too!
Check Latest Price ➤
7. Galt Toys Large Playmat, Farm Design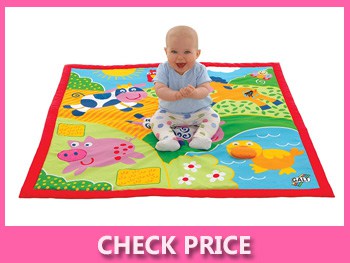 Overview:
This is a simple yet feature-packed plush baby playmat with eye-catching farm animals as a design.
What we love in this Playmat ❤️
Size of 100 x 100cm is ideal for small spaces for rolling over and tummy time of young babies
Each of the 6 farm animals has a sensory feature: squeaky beak, velour patch, shiny nose, crinkle wing, woolly head, and cord tail
Colourful design is stimulating to your baby's eyes
One of the most affordable baby playmats in the market
Combines most of the features of other baby playmats
Portable and does not need assembly
What we don't love  💔
Toys are built-in within the baby playmat and are not suitable for infants who cannot lie down yet
The Verdict: Best for New Parents and Families
The Galt Toys Large Playmat is perfect for new families. Having an affordable price and a no-frills design make it easy for new parents to assemble and clean. Its size is the best for small homes while not compromising your little one's fun time
Check Latest Price ➤
8. Winthome Baby Playmat, Upgrade – House Design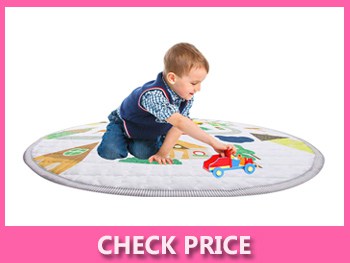 Overview:
This baby playmat and toy storage in one is the perfect solution for your multiple baby needs.
What we love in this Playmat ❤️
Multipurpose and can be used as a storage bag, climbing mat, and gamepad
Upgrade-house design has car tracks and houses for pretend play
Teach your baby to clean up with you using the storage bag
Portable and easy to transport with your baby's toys
Affordable price point for the functionality
Diametre of 150cm is large enough for exploration and tummy time
What we don't love  💔
Infants and babies who are not able to lie down and crawl might not enjoy the playmat much due to lack of hanging toys and teethers
The Verdict: Best Multipurpose Playmat
The Winthome Multipurpose Baby Playmat has various uses for the price of one. Your money will go a long way for this playmat. Its lightly padded non-slip cotton baby playmat will encourage movement for your baby. Keep your house clean too with your baby's toys tucked in the playmat as it transforms into a storage bag. 
Check Latest Price ➤
9. Disney Baby Mr. Ray Large Baby Playmat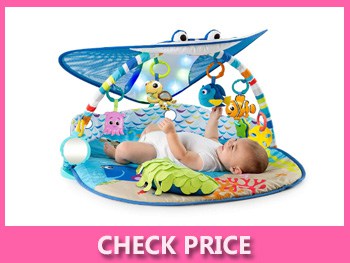 Overview:
With this large baby playmat, your baby will surely have an under the sea adventure with Dory, Pearl, Nemo, and Mr. Ray, all from the Disney movies Finding Nemo, and Finding Dory.
What we love in this Playmat ❤️
With 20+ minutes of ocean-themed melodies that will keep your baby interested even during long periods
Hanging toys and rattles have varied textures which are based on the film's characters
Child-friendly mirror your baby's self-awareness
Encourages communication, interaction, and storytelling with the Dory finger puppet
Different modes with fun magical light shows can stimulate your baby's visual development
Includes a removable prop pillow to aid your baby during tummy time
Spacious enough for your baby's movement activities with the playmat size of 81.3 x 91.4 cm,
larger than most play gyms with arches
What we don't love  💔
More on the expensive side
May overstimulate a newborn or younger baby with the plenty of activities happening at the
same time
Might be difficult to use when traveling due to challenging installation and assembly
The Verdict: Best in Sensory Stimulation
The Disney Baby Mr. Ray Ocean Lights Activity Gym & Baby Playmat is your best bet to keep your baby entertained while you are busy with your errands or taking a rest. It is also best for communicating and interacting as your baby gets older through storytelling and imaginative play. Your baby will never run out of activities to do with its jam-packed features.
Check Latest Price ➤
Why you should buy a large baby playmat?
Babies are curious little explorers. They always do whatever they can to learn about others and their environment. To keep your baby safe and to boost their development at the same time, a large baby playmat is a must-have.
Here are reasons why you should have a large baby playmat:
Creates a safe and secure environment
Designed with infants and small babies in mind, large baby playmats are safe and secured. You can let them have fun with the carefully-chosen toys that are large enough for your baby not to get choked. Also, a large baby playmat has pads and cushions so your baby can enjoy exploring. It should be able to endure all the chewing, tugging, and crawling your baby might do. These playmats were tested and certified to be made of high-quality and non-toxic materials. This ensures comfortable playtime while avoiding bumps, scratches, and other injuries
Promotes brain development
The toys in a large baby playmat respond in a way that your baby will understand the concept of cause and effect. This raises your baby's awareness and logical thinking. An example of this is the movement of the hanging toys, which swing back and forth whenever grabbed and released back. Another instance is when a musical toy produces a sound after touched or kicked. These simple activities make your baby relate his movements with the things that are happening around him. As your baby plays with these toys, his imagination, creativity, and logical thinking are being processed. This also feeds his curiosity and encourages further brain development.
Stimulates the senses
Your baby will have loads of fun learning by using a baby playmat. Babies learn best through their own experiences. A good baby playmat will have features that will stimulate your baby's different senses.
Visual: A bright playmat with attractive patterns will stimulate your baby's sense of sight and help in colour recognition.
Tact: The different textures that a baby playmat has will appeal to your baby's sense of touch.
Auditory: Some features of a baby playmat, like rattles and musical toys, expose your baby to different kinds of sounds.
Oral: The safe and non-toxic toys of a baby playmat are fit for your baby's sucking, teething, and oral exploration
Assists in fine and gross motor skills development
A large baby play mat should promote your child's movement by providing a comfortable space for play. This develops gross motor skills that will lead to better balance and stronger muscles as your baby grows up. Also, some baby playmats include arches that have swinging and hanging toys which your baby can reach, grasp, and hold to build fine motor skills.
Encourages communication and language development
Who says that only your baby will enjoy a baby playmat? With the wide features and activities that a baby playmat comes with, it can be a tool for you to communicate with your little one. You and your baby can have fun together using the toys for storytelling. This exposes your baby to different words while creating different worlds for your baby.
Supports independent play
As your baby grows, a baby play mat will help your child in exercising his freedom and independence. Through the safe space for movement and play it provides, your baby can develop his fine and motor skills. Aside from that, having a baby playmat for your baby is beneficial for you too. It is like having another set of hands that will keep your baby happy and occupied while you do errands for the house.
What to look for in a baby playmat?
A baby playmat is not a one-size-fits-all item. As they come in different forms, you must look out for different characteristics that will make it the best baby playmat for your baby.
Should be made of durable material that can withstand your baby's activities, which include chewing and tugging
Should be well-padded with the right thickness to prevent injuries in case your baby falls trips while finding his balance
Must not be slippery for your exploring baby while still being soft enough to make your baby feel comfortable
Should have a size that is appropriate for your baby's age and stage of development
Must be easy to clean and maintain to make it fit for frequent use
May include a variety of toys to keep playtime fun and engaging while boosting your baby's total development
Should be portable enough for you to bring it on the go with your baby
And that wraps up my list of best large baby play mats! Keep in mind that choosing the best baby play mat for your baby will be a huge help to improve the quality of your baby playtime and encourage your baby's physical and mental development.
Last update on 2023-09-20 / Affiliate links / Images from Amazon Product Advertising API