Cheap playpens for new babies: Playing is an essential part of a baby's formative years. Through play, babies can discover themselves, the people around them, and their environment. Playing also nourishes their brains and helps them develop in different aspects. These include cognitive, communication, and problem-solving skills. It also aids in the development of fine-motor and gross-motor skills.
Since playing has a great impact on your baby's development, creating opportunities for your child to play is very important. To do this, you must provide a safe and secure environment for your fragile little human to explore and learn things. Having a playpen for your baby is one of the best ways to do that.
Our Top Picks: Great Value Playpens For Babies & Newborns
What is a baby playpen?
Also known as a baby play yard, a baby playpen is an enclosed area with high walls or sides. Specifically created with your baby's safety in mind, its purpose is to have your baby play inside it without wandering off. It should also be durable enough to withstand your baby's weight and activities, including rolling, crawling, and sitting up.
Looking for the Cheapest? – Here's our top 7 best playpens for babies
1. Venture All Stars Baby Playpen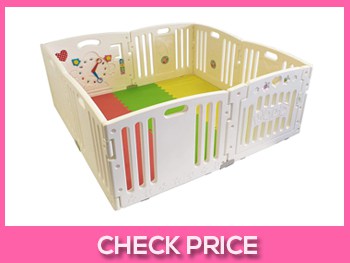 A baby playpen made with minimalist-looking thick white plastic panels that comes with fitted floor mats and plastic balls.
What we like
Comes in a complete set for your baby's entertainment and safety, with brightly-coloured plastic balls and EVA baby floor mats
Has suction pads to keep the baby playpen in place and avoid it from being pushed down by your toddler
White-coloured panels can fit in the aesthetics of any room and have a minimalist look and feel
Includes an activity panel with a toy clock and other toys to keep your baby busy
Dual lock safety door panel system keeps your baby secured inside the baby playpen while making entry and exit easier whenever attending to your baby
Huge area of 155 x 155 cm for playtime and movement and can accommodate up to 3 kids inside
Simple installation procedure with push-fit assembly system that does not require any tools
Tested for British Safety Standards BS EN 1227 EN 71 and made of odourless, food-grade, non-toxic, and eco-friendly HDPE material
Panels can be added as the need for bigger space arises
Arrangement can adjust depending on preference
Convertible as a room divider
Wide panels will save time for assembly compared to other plastic playpens with slim panels
What we didn't like
Not foldable, panels can be separated from each other for storage but may take space
Difficult to transport as it does not come with a storage bag
May appear expensive at first, however, price is reasonable for the inclusions
The Verdict: Best in Activity and Entertainment The Venture All Stars Baby Playpen comes with brightly-coloured balls, thick EVA floor mats, and an activity panel that are great for keeping your baby busy and entertained while you are doing household chores or other tasks.
Check Latest Price ➤
2. Summer Infant Pop 'N Play Playpen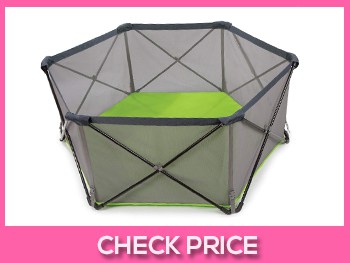 This freestanding and portable baby playpen can be fully assembled and unfolded within just a few seconds.
What we like
Easy-to-fold and compact for quick storage and transport and comes with a storage bag
Perfect for all seasons with the mesh sides for ventilation
Waterproof material is easy to clean and suitable for messy playtime
Large play area of 160cm is good for 2-3 kids inside or one kid and one adult for a fun interactive play
Great affordable price for the features compared to other playpens
What we didn't like
Steel frame does not have pads to protect baby from knocks and injuries
Canopy is not included by the package
The Verdict: Best for all Seasons The Summer Infant Pop N' Play Playpen is the most suitable baby playpen for all kinds of weather. The mesh walls and linings are the best for both indoor and outdoor play and an attachable canopy can be bought separately to protect your baby from harmful sun rays or rainfalls.
Check Latest Price ➤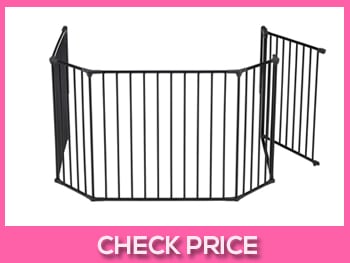 This is a 3-panel expandable configure system that functions as a baby gate, room divider, and fireplace guard.
What we like
Does not take up much space in your home, just use it to enclose any space for your baby's play area
Multipurpose and functions as a safety gate, divider, and window or fireplace guard
Metal material is durable and long-lasting
Panels can be rearranged, and extensions can be bought separately depending on your family's needs
Conforms with the latest European safety standard EN 1930:2011
What we didn't like
Won't provide space for your baby's play area on its own, your own should have a small space that needs to be enclosed by this configure
Metal material does not have padding for exploring babies
Might be expensive as compared to the other baby gates and expandable playpens with the same style
The Verdict: Best for Small Homes The BabyDan Configure is the most suitable for houses or flats with small areas that just need to be enclosed to be converted as a playpen while keeping your baby's safety and security in mind.
Check Latest Price ➤
4. All Stars Joy Baby Playpen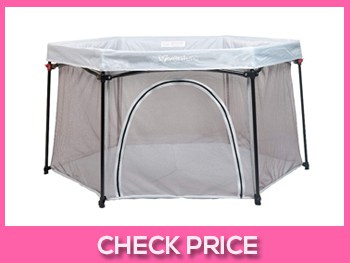 This is a foldable and compact baby playpen that will keep your baby safe with its light padding.
What we like
Made of durable steel material to keep your baby safe and secured
Easy to fold and store after using or whenever bringing to trips
Size of 136 cm is large enough to keep two kids inside while still having enough space for play
Option to put the baby inside through the zip-open panel or by leaning baby down
Quick to assemble which make it easy for frequent use
Mesh panels provide good ventilation
Comes in an affordable price point with great features
What we didn't like
All-steel frame is not padded
The Verdict: Best Value for Money The All-Stars Joy Baby Playpen is perfect for families on a budget. It comes with a lot of wonderful features for a lower price. It is a cheap alternative if you are looking for a portable playpen that is perfect for frequent use. Compact and easy to assemble, it is a convenient choice for parents and babies alike.
Check Latest Price ➤
5. Surreal Playpen for Baby and Toddlers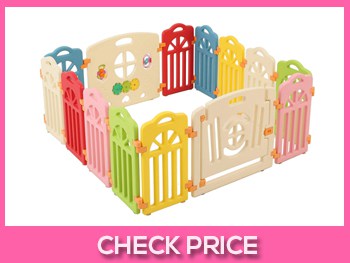 This large baby playpen has eye-catching plastic panels that are quick to assemble, with included activity panel and sliding door.
What we like
Plastic material is durable, non-toxic, and long-lasting
Quick and easy assembly for daily use
Rounded edges and corners are added for your baby's safe play
Expandable as its panels can be sold separately
Security lock with button prevents your baby from opening the door
Multipurpose and can be used as a room divider
Panels can be broken down and re-arranged according to room shape
Activity panel can keep your baby entertained
The dimension of 160 x 160 cm can accommodate 3-4 children or two children and one adult while still maintaining enough space for your baby's physical movement
Conforms with British safety EN71 requirements
What we didn't like
Panels can be folded but tend to be bulky when stored
Does not come with a storage bag and may be difficult to be used for travelling
The Verdict: Best for Exploring Toddlers The Surreal Baby Playpen is your best bet for older babies and toddlers with the wide spaces and activities that you can do in it. You can get it while your baby is still small, and it can last a long time as your baby grows and starts to explore.
Check Latest Price ➤
6. Dreambaby Royale Converta 3-in-1 Playpen
This multipurpose baby playpen has 6 configurable panels that can be installed as barrier gate, fireplace guards or a divider.
What we like
Metal material is sturdy enough for your baby's activities
Well-ventilated with railings that are wide enough for air to go through, but small enough for your babies not to walk out of it
Additional panels can be bought separately to provide a bigger space area as your baby grows
Easy to pack away and portable to bring to travels
Configurable panels can adapt to the space of your home
Safe and secure with wall mounts
Stay open feature can make cleaning time easier
Can function differently when not used as a baby playpen
What we didn't like
Space can be limited if used as a freestanding 6-panel baby playpen with a size of 105 cm
Needs separate padding or mat, especially whenever using outside
The Verdict: Best Multipurpose Baby Playpen The Dreambaby Royale Converta 3-in-1 Playpen is a functional and all-around baby playpen that has many uses for the entire family to keep your children safe. Compact and expandable at the same time, this is ideal for traveling and bringing outside.
Check Latest Price ➤
7. Exqline Pop-n-Play Kids Safety Playpen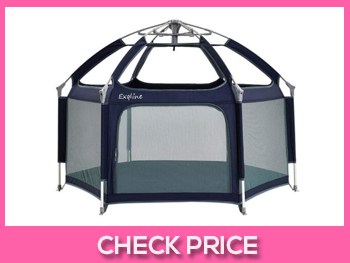 This is a portable and travel-friendly baby playpen that comes with a canopy, mattress, and storage bag
What we like
Removable waterproof canopy blocks ultraviolet rays, sudden rains, and insects, making it perfect for outdoor play with your baby
Size of 149 cm is spacious and can accommodate an adult to play with the kid or have 2-3 kids inside for a fun playdate while still leaving enough room to move
Double-lock system and reinforced fibreglass frame and the stitching will keep babies safe and secured
Lightweight and portable with a storage bag for easier travelling with your baby
Comes with a free self-inflating mattress made from a non-toxic material
Suitable even for taller children with high walls of 101 cm
Designed to be set up and assembled instantly and folded down compactly with a single motion
Wipe-to-clean nylon fabric makes cleaning it easy even with baby's messy sensory play
What we didn't like
Expensive compared to other baby playpens in the market but reasonable enough for the features
The Verdict: Best for Baby's Day Out The Exqline Pop-n-Play Kids Safety Playpen with Mattress is suitable for outdoor activities including picnics, beach trips, and camping. It has a waterproof canopy with anti-UV rays feature, which will surely make your babies enjoy your trip without having sunburns or getting wet from sudden rains. Also, the easy-to-assemble system can make you outdoors ready in just 5 seconds. The storage bag makes carrying it a breeze on trips too.
Why you should get a playpen for babies?
As babies get older, they become more curious and excited to discover the things around them. When babies are placed inside a baby playpen with age-appropriate toys, it makes a fun experience while learning.
Here are the main reasons why you should get a baby playpen:
Encourages independent play
Some babies tend to be clingy and hesitant to try new toys by themselves. Baby playpens will encourage them to take on things on their own hands. It promotes independent play so that they will gain confidence, knowing that they are in a safe space while their parents are not too far away from them.
Lets you do your tasks while your baby is having fun
Even if babies always need adult supervision, baby playpens are a huge help for parents who need their hands to be free to run errands. Simple chores like answering the phone, cleaning the house, going to the bathroom, or jotting down daily tasks are possible while you are keeping an eye on your baby inside the playpen. Don't forget to make sure that your baby has safe, entertaining, and educational toys inside the playpen.
Decreases your baby's risk for accidents and injuries
As babies grow older and turn to toddlers, they turn into constantly moving tiny creatures that are full of energy. This naturally causes injuries and accidents. Good thing a wide variety of baby playpens are now available in the market. Baby playpens avoid incidents of chasing a crawling baby on the kitchen floor or going after a toddler climbing the staircase.
Keeps your house clean and organized
Using a baby playpen will prevent baby toys and items from cluttering your home. While your baby is playing, the toys will be contained only in one dedicated space. This also makes you in-charge of choosing which toys to bring out and allow your baby to play with inside the playpen. Some baby playpens are foldable too, which makes cleaning after playtime easier.
Promotes physical and mental development
As we have mentioned that play is one of the best ways for a child to enhance brain development, providing an enticing space to play will encourage them to do so. Also, the high sides or walls of a baby playpen will help babies to practice standing up and walking while confined in the safe space. These help them develop holistically and boost their skills as they grow.
Doubles as a portable nappy-changing station, bassinet, or crib
Nothing beats a value for money, and a high-quality baby playpen gives that and more. Most of the time, parents can use baby playpens to keep their babies comfortable during nappy change time. It can also convert as a sleeping area for kids whenever on trips or excursions.
What to look for in a cheap baby playpen?
Before choosing a baby playpen that you will get, whether it is for your child or to be given as a gift, make sure that it has the characteristics below.
These are the things which are the most important for a baby playmat:
Made of high-quality and heavy-duty material
As the baby's safety is the highest priority, a good baby playpen should not be easily worn out as your baby grows and uses it. A great baby playpen et must be sturdy enough to withstand activities like tugging, biting, rolling, crawling, and jumping. Whether you are planning to play with your baby or have 2-3 kids inside it, check its built, material, and weight capacity.
Compact, foldable, and portable to be brought with you during trips
Going outdoors with your kids might increase the risk of accidents and injuries. When getting a baby playpen, consider its portability so it will not be difficult to bring along to keep your baby safe outside the comfort of your home.
Quick and hassle-free assembly saves time
As parents, you have a lot on your plate. Make things more manageable by using a baby playpen that requires simple and quick assembly. This also prevents your child from waiting for a long time for the baby playpen to be ready.
Easy to clean and maintain for frequent use
It is important to ensure that all the surfaces that our little one touches are clean. This is vital for a strong immune system and gut. Having simple to clean baby playpen with machine-washable fabric is your best bet. It should be easy to maintain too.
Size is large enough for your baby's playtime and exploration
One of the main reasons to get a baby playmat is to have a place for your baby to play. Because of this, you must consider if the space it provides can fit in several toys. Make sure too that your baby can still do activities like rolling and crawling inside the playpen. It will be a bonus if an adult can fit in inside it all the while taking only the appropriate space in your home.
Well-ventilated and can be used for any season
Babies are more sensitive to the weather as their bodies do not regulate temperature well compared to adults. A baby playpen that provides good air circulation will keep your baby's body temperature within normal limits. This avoids your baby from chilling or overheating.
Conclusion:
And that sums up the best playpens for babies in the UK that you can choose from depending on your lifestyle, budget, and the space in your home. Always remember that babies would still need adult supervision and interaction. Use the baby playpen wisely in your favor to play and teach your kid safely
Last update on 2023-09-20 / Affiliate links / Images from Amazon Product Advertising API