As a new parent, a pram is an indispensable piece of baby gear that you are likely to buy even before the baby is born. In the UK, you won't even be allowed to rake your baby home without a safe baby pram or a car seat.
Pram safety is very important as it involves your infant and the road. Ensuring safety in the pram begins right when you think of buying a pram and weigh different options.
Here are some ways in which you can choose a safe baby pram. We will also include important tips that will help keep your little delight safe on the go.
Here are some points that you must consider before buying a pram:
Where is the pram going to be used: The type of pram will depend greatly on where you use it. The condition of roads and sidewalks determines pram safety greatly. For instance, if you live in a city, you may need a sturdy pram to move around the sidewalks. Foldability will be an essential feature if you regularly use the bus or subway. If you travel regularly out of your main place of stay, it is a good idea to look for a pram that easily folds and fits into the car trunk. This will prevent you from going anywhere without the pram and hence ensure safety anywhere you go.
How many children need to sit in: If you have an older child that still needs a pram, it is safer to opt for a double pram or an attachment for the second child rather than trying to manoeuvre two prams. Also, make sure you adhere to the weight recommendations by the manufacturer.
How is the pram going to be used: If you frequently go jogging, it may be pretty unsafe to use an umbrella or pram. However, if you run the errands, an umbrella pram is safe and ideal.
Additional accessories: You will need to invest in only those accessories that are compatible with your pram. It is a good idea to stick to manufacturer recommendations.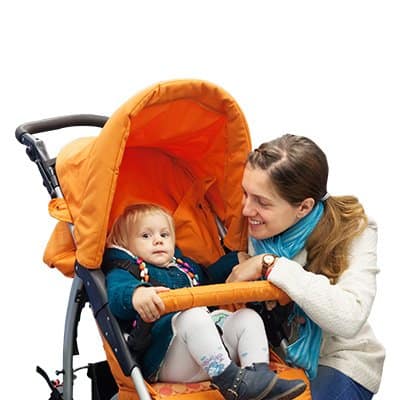 Determining which pram is safe for newborns:
While buying a pram for a newborn, make sure it offers easy reclining as newborns do not have head control and cannot sit up. Full reclining prams or ones with a bassinet attachment or infant-only car seats are the safest for newborns. Umbrella prams are absolutely not recommended for newborns due to the absence of adequate head and back support. Jogging prams are also not designed to recline and are unsafe until the baby is 6 months old.
Ensuring safety in travel system:
If you use a car, a pram with car seat support is ideal. Travel systems are matching sets of car seats and prams. Though, other attachments are also available to use prams with car seats. A travel system allows you to effectively move the baby from pram to car and vice versa. While this keeps you from waking the baby when you need to move them, you must not leave the baby in the car seat for too long. This can develop a flat spot at the back of your baby's head or aggravate reflux issues. It can also have adverse effects on breathing. It is thus ideal to not let the baby sleep in a car seat for more than 2 hours whether you are using it in the car or the pram.
How to ensure pram safety for special needs children?
If you have a premature baby to transport, or a baby with a health condition, it is ideal to opt for a pram that can safely carry necessary equipment such as cardiac monitor or oxygen on the go.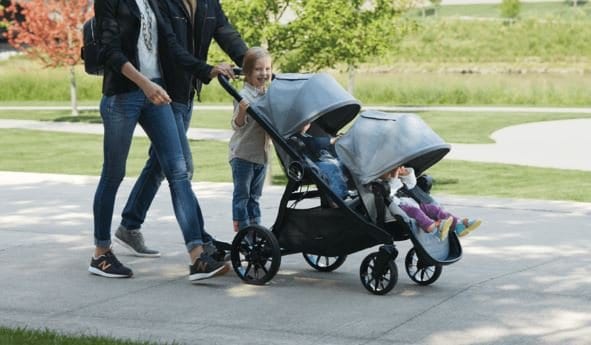 Other safety considerations essential in a pram:
Below are some important safety features that you must look for in a pram:
Easy to operate brakes: Easy to operate breaks will help you move safely in crowded spaces. Some prams offer a feature to lock two pram wheels with brakes. Ensure that the baby is unable to access the lever to release the brakes.
Wide base: Wide base prams are safer than the ones with a narrow base as they cannot tip over very easily.
Single footrest: In case of double prams, it is better to opt for ones where the footrest is wide and common to both sitting spaces. Separate footrests may trap little feet and cause injury.
Some tips to prevent pram accidents and keep baby safe in pram:
Keep an eye at all times: Babies must never be kept unattended in a pram. Not even for a minute.
Fasten the pram toys carefully: The toys hanging from pram bar must be fastened properly so they do not unfasten and hurt the baby.
Keep the buckle fastened as long as baby is in the pram: Whenever you go for a pram ride, make sure that the baby is well harnessed.
Always use the pram brakes: Whenever you stop the pram, make sure you engage the brakes. Remember this even if you are moving at a slow pace.
Keep the belongings light and store them properly: Make sure you carry a light bag and do not hang it from the pram bar to prevent the pram from tipping over.
Folding precautions: Keep the baby at a distance while folding or unfolding the pram to prevent fingers from getting caught in the hinges. You must also lock the pram properly after opening before putting the baby in.
Pay attention to the temperature: If the sun is too bright, do not keep the pram out for too long. This may make the parts hot and it may burn the baby. Touch and check the temperature before you put the baby in.
Check for pram recalls: Do not use a pram model that has been recalled. Pay attention to this specifically if you are using a preloved pram.
A pram is an amazing piece of equipment that ensures convenience and easy transportation. Following simple steps to ensure pram safety will go a long way in reducing stress and injury.