Tenboo Baby Monitor Review: Having a good baby monitor automatically saves you from the extra effort of protecting your baby from any trouble. Doing chores of the house and then ensuring the safety of your little one makes it quite a difficult task. This when a baby monitor comes to your rescue. It is handy and ensures that your little munchkin is safe.
Tenboo Baby Monitor is one of the best baby monitors that has the solution to all your problems. It is a two-way talk system, which supports night vision. This decent video monitor is an apt device in the lower price range. Moreover, its 3.2" LCD screen enables perfect monitoring of your baby. With all the mentioned features it is regarded as the best assistant for safe parenting.
Key Features Of Tenboo Baby Monitor
The Tenboo baby monitor with camera is perfect for your baby and has the following features:-
Large screen: It is equipped with a 3.2" LCD screen that enables the parents to monitor their little munchkin in high-definition picture quality. It has 320*240 pixels and results in clear monitoring of your baby. When using this device for the first time, remember to use the camera with the power cord and monitor with fully charged batteries. For easy reach, the cables are quite long 2.5m- 3m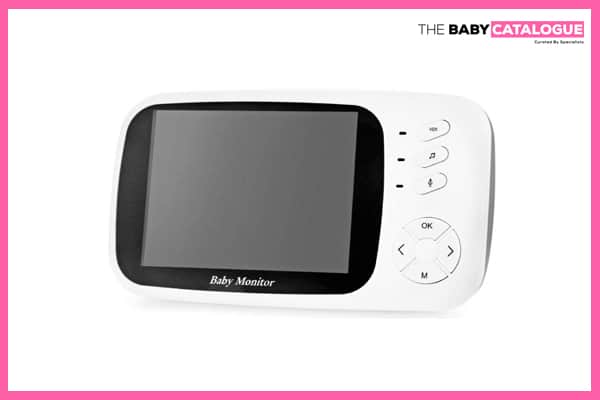 Long battery life: To support parents with a painless effort in monitoring their child, this amazing piece of technology comes with 180 hours of battery life.
Communication system: This real-time intercom like system helps you to communicate with your child with awesome sound quality. With a decent picture quality, its optical camera generates a picture of 1-1.5m. n fact, the picture quality is dead clear in the night time than day time.
Soothing lullabies: This device comes with built-in lullabies so that parents are assured their sweet munchkin falls asleep with sweet dreams. It is equipped with a 750 mAh rechargeable battery made of lithium polymer. This means with one single charge it can be used up to a week.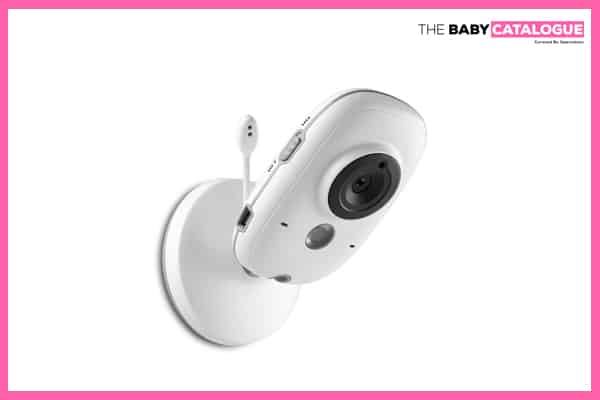 Easy setup and portability: This revolutionary device offers a hassle-free setup of three simple steps; turn on, plug in, setup and tadaaa ready to use. Its small size and lightweight camera unit let you carry this device in your pocket and do your work.
Safe baby monitor: A 2.4 GHz wireless baby monitor have it all. This is a safety device with frequency hopping provides the users with a private link, unlike other IP cameras that can be accessed with the help of the internet. Its VOX mode automatically switches this device to "sleep mode" to save battery. It reactivates automatically as soon as any noise is heard in your baby's room and especially when the little one starts crying. Also, if you are concerned, this camera does not make any noise on activation, therefore, your baby is still going to have a good sleep. You will notice a change in the display from light to dark. This device has an infrared night vision, which is a calming night light so that your baby gets a good night sleep. With this light, you can keep an eye on your child in the night without disturbing the sleep of the baby. It is easy to navigate menu lets you to make changes in time, temperature, date, etc. from the home screen. You can even set alarm and adjust backlight brightness and timer.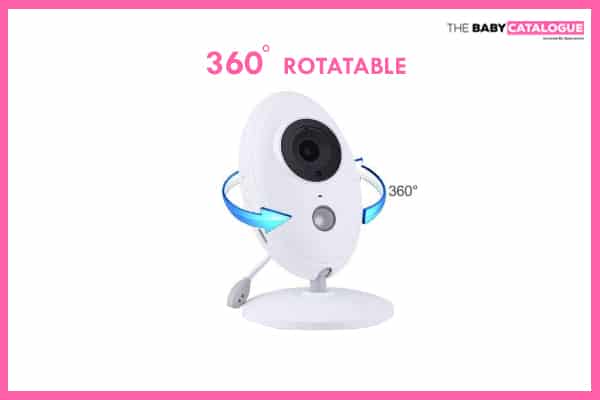 Multi-language device: Another striking feature of this device is its capability of understanding different languages. You can select French, English, Spanish, German, Portuguese, Italian, and Russian.
High range and warranty: The creators of Tenboo has made 260m baby monitors with two years warranty. They even provide their customers with a 24*7-customer service. If any problem persists, you can even mail them directly.
What we love in Tenboo Baby Monitor ❤️
Wide-ranging signals
Good screen size
Hassle free menu support
Easy to port
Ideal picture quality
Excellent VOX
Long battery
Automatic infrared night vision
Multi-language system
Tenboo Baby Monitor With Camera Review
Check Latest Price ➤
Tenboo Baby Monitor Buying Guide:
An ideal baby monitor depends upon several factors, size of the room, number of babies, features, etc. Do not rush yourself in purchasing an expensive device as sometimes a cheap one can do wonders for you. This is something you need to think before purchasing. A good baby monitor must be capable of producing clear audio with no interferences and good signal strength. If you own a large house with a garden then you might need a baby monitor with a camera. Today's baby monitors are lightweight, high-tech, reliable and portable. They are infused with more features than before including smartphone connectivity, in-built lullabies, temperature sensors and much more.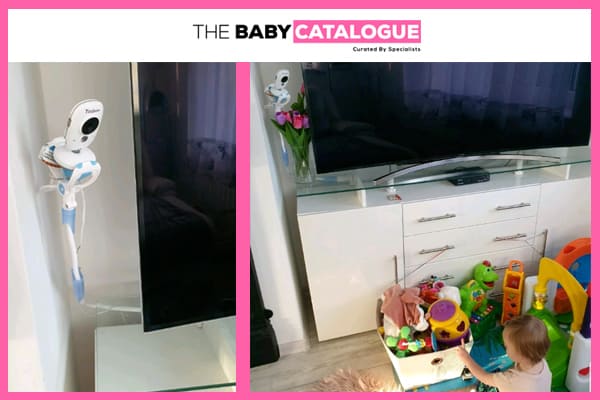 Handy tips to pick an ideal baby monitor:
Best baby monitors work at 2.4 GHz frequency. If possible, look for a device with DECT technology as it uses a separate 1.9 GHz frequency, which means fewer interferences.
Install and check baby monitor before your baby comes home. Many devices experience some kind of interferences due to invariable built of the houses. Therefore, give your chosen device a test run at your home.
There are different kinds of monitors available in the market; audio monitor, digital monitor; video + audio monitor, wireless audio monitors, and movement monitors. Therefore, choose according to your suitability.
There are a plethora of baby monitors available in the market, so deciding an ideal one is not so easy. To minimize your work we have handpicked a baby monitor by Tenboo.
Bottom Line:
Overall, this is an ideal product, which helps the parents in taking care of their child even when they are engrossed in their work. To overcome the con of irritating blue light you can stick a paper and overcome disrupting frequency remember not to keep the frequency too high. This way you will be able to do your work without any disturbance and also take care of your child alongside. All these features make it an attractive product to buy.
Happy shopping!
Check Latest Price ➤
Last update on 2023-09-20 / Affiliate links / Images from Amazon Product Advertising API